News
Telangana sounds alert as Godavari crosses first danger mark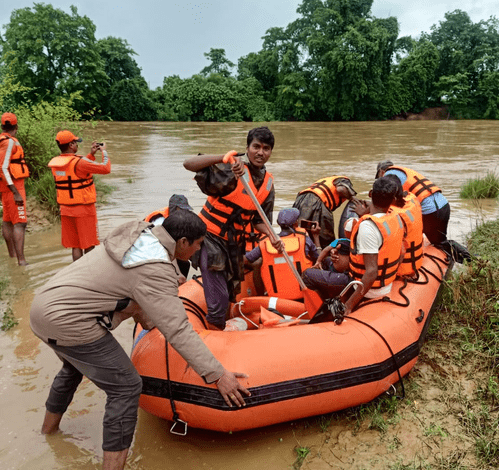 Godavari river crossed the first danger mark at Bhadrachalam in Telangana's Bhadradri Kothagudem district on Thursday, prompting authorities to alert the people living in low-lying areas along the river.
The water level, which was 41.3 feet at Bhadrachalam on Thursday morning, crossed the first danger mark of 43 feet in the evening.
According to district collector D. Priyanka, the level rose further to 44.3 feet due to the inflows from upstream.
The district collector along with other senior officials visited certain areas along the river bank which face the threat of flooding.
The river is in spate due to heavy rains in the catchment areas of Godavari basin.
Meanwhile, rains continued in several parts of Telangana on Thursday.
In Hyderabad, Chief Minister K. Chandrasekhar Rao reviewed the situation.
He gave certain instructions to Chief Secretary Santhi Kumari regarding. The emergency measures to be taken in the heavy rain hit areas. 
The government machinery including the police department has been asked to be on high alert and take immediate action.
The CM asked the officials to be prepared to carry out relief measures on a war footing and. Shift people to safe places from the habitations which are likely to be flooded in Bhadrachalam. 
CM KCR said that the services of the officials who discharged. Their duties efficiently during the floods earlier will be utilised. 
The CM ordered Anudeep Durishetti, who is currently working as the Collector Of Hyderabad, to leave immediately to Bhadrachalam and take relief measures depending on the flood situation in the river. 
The Chief Minister said that the government also set up Control rooms in MRO offices. And Collector office in addition to the state Secretariat. 
The CM directed that helicopters be made available to the National Disaster Response Force (NDRF) for relief operations. CM KCR ordered the officials of the relevant departments including Revenue, Panchayati Raj, Medical and Health Department, Disaster Management to be alert and take immediate action to provide relief.
He directed the Chief Secretary to monitor the situation from time to time.
The state government is ready to face any situation, said the CM.
Meanwhile, Director General of Police Anjani Kumar stated that the police teams at Mulugu, Kothagudem, Mancherial, Peddapalli, and Bhupalpalli are all ready to face any situation in the wake of heavy rains in Godavari and Pranahita catchment areas.
He held a review meeting with senior officials.