News
Upgradation of Tirupati Railway Station to be completed by Feb, 2025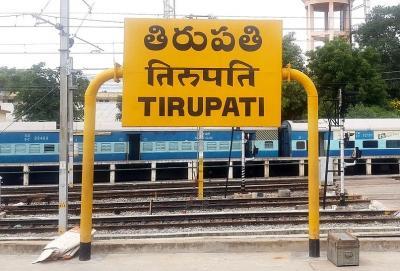 The upgradation work of Tirupati Railway Station to cater the needs of the rail passengers for the next 40 years is proceeding at brisk pace and is scheduled to be completed in two years
The South Central Railway (SCR), which started the upgradation work in May 2022, said on Tuesday that the work is being monitored at all levels so as to ensure timely completion of the project. The work has been awarded under EPC mode and the entire project is targeted for completion by February, 2025.
A new station building is coming up on the South side of the existing station building. After completion of geological survey, setting-up of camp office, concrete lab and storage sheds, remaining works have continued to move in a fast manner.
The concreting of the foundations has been completed 100 per cent for the new upcoming station building. Till date, about 7,450 cubic meters of concrete has been used in foundations, columns of basement floor and retaining wall.
The SCR said in the next phase, work related to centering and shuttering of the concrete slab for the basement floor has commenced and is progressing briskly. As on date, almost 20 per cent of the work has already been completed. An underground water tank with a capacity to hold 29 litres of water is to come up as part of the new station building. For this, both excavation works for construction of underground tank as well as concreting of its foundations has also been completed.
Two new air concourses are planned to be constructed as part of the upgraded station to handle both incoming as well as outgoing passenger passengers. These air concourses will be of 35 meters width and will connect all the platforms of the station and also both sides (North as well as South) of the Station buildings.
Arun Kumar Jain, General Manager, SCR stated that the upgradation works of Tirupati station are being monitored regularly so that the work is not hampered and it is completed within the targeted time. He also stated that the works are taken up with utmost caution to ensure least inconvenience to the passengers and train movements in the station.