News
Voting for Nagaland Assembly elections begins amid tight security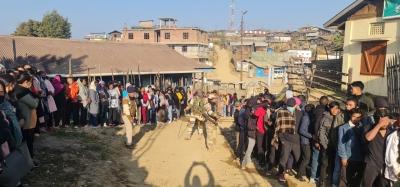 The voting for the Nagaland Assembly elections began on Monday morning amidst heavy security measures, election officials said.
Voters, comprising men, women and first time electorates, in large numbers queued up in front of most polling stations before the voting at 59 of the 60 Assembly seats started at 7 a.m.
The voting in 2,291 polling stations, manned by 11,500 polling staff, would continue till 4 p.m. without any interruption.
Nagaland Chief Electoral Officer (CEO) V. Shashank Shekhar said that around 13.16 lakh voters including 6,55,144 women would decide the electoral fate of 183 candidates including four women nominees in Monday's elections.
In the 2018 Assembly polls, 190 candidates, including five women, had contested the elections. Votes to be polled in Nagaland on Monday would be counted on March 2 along with Meghalaya and Tripura.