News
VXI forays into India, to create 10K jobs in 5 years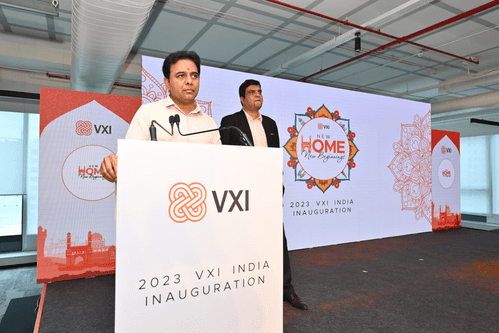 Making a foray into India, VXI Global Solutions, a leader in customer experience management and business transformation services, on Wednesday launched its delivery centre in Hyderabad.
The company has plans to create 10,000 jobs in five years. Telangana's Minister for Information Technology and Industries K.T. Rama Rao inaugurated the centre which has come up in International Tech Park, Madhapur.
The MoU for VXI's facility was signed during Rama Rao's visit to the US in May this year.
Speaking on the occasion, the minister said that Hyderabad is a city brimming with talented youngsters coming from across the country.
He expressed confidence that Hyderabad will contribute to the growth story of the company.
He assured complete support to the company from the government of Telangana.
The centre is spread over 120,000 square feet of office space.
It will accommodate over 1,000 employees by the end of 2023, with the plan to expand to 10,000 within 5 years in India.
"Our investment in Hyderabad is a first step toward a long-term commitment to the country, as we establish VXI as a major contender and preferred employer for India-based contact center and customer engagement solutions," said Jared Morrison, Chief Operating Officer of VXI Global Solutions.
After a thorough assessment, VXI has selected Hyderabad, a thriving technical hub offering a modern infrastructure advantage.
India's second-largest provider of IT-enabled services, Hyderabad. Is one of the fastest-growing tech cities in the country. And is home to a wide range of industries, besides a diverse and highly. Educated labor force of almost 10 million people to tap into. 
VXI Global Solutions is a leader in customer service, customer experience and digital solutions.
Founded in 1998, the company has over 42,000 employees. At more than 40 locations in North America, Asia, Europe and the Caribbean. 
It delivers omni-channel and multilingual support, software development, quality. Assurance, and CX advisory, automation and process excellence to the world's most respected brands.