News
YSR Congress to attend inauguration of new Parliament building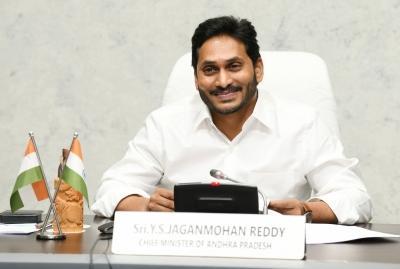 The YSR Congress Party (YSRCP) led by Andhra Pradesh Chief Minister Y. S. Jagan Mohan Reddy will not join the Opposition parties in boycotting the inauguration of the new Parliament building.
Sources in YSR Congress confirmed that the party MPs will attend the inaugural event.
YSRCP parliamentary party leader V. Vijayasai Reddy and party MPs will attend the inauguration of the new Parliament building by Prime Minister Narendra Modi on May 28.
Vijayasai Reddy has already welcomed the inauguration. "The new building is a depiction of an India that is modern, self-reliant and proud. We finally have a building that is made to serve as the Parliament of a democratic country," he tweeted.
YSRCP's decision to attend the inauguration is not surprising given the cordial relations the party enjoyed with the BJP-led government at the Centre.
Ever since YSRCP came to power in the state four years ago, it maintained friendly relations with the Modi government. It extended crucial support in passing key bills in Parliament.
It also supported crucial bills like criminalisation of triple talaq and abrogation of Article 370 which conferred special status on Jammu and Kashmir. Jagan's party also sailed with the NDA government on three controversial farm laws.
The YSRCP extended support to the NDA candidates in the elections for President and Vice-President, both in 2017 and 2022.
YSRCP has never been part of any effort by the Opposition parties to take on the Modi government on key issues.
Political analysts see this as the compulsion of Jagan Mohan Reddy-led party to check main opposition Telugu Desam Party (TDP) which is keen to revive its alliance with the BJP.
At a time when Jana Sena Party (JSP) leader Pawan Kalyan, an ally of BJP, is working to cobble together a grand alliance of TDP, BJP and JSP against Jagan government ahead of the next year's elections, the YSRCP would not like to mar its ties with the Modi government by joining ranks with the other opposition parties.
The YSRCP also needs support from the Modi government. To bail out the state from financial crunch and also resolve post-bifurcation issues.
Interestingly, only a day ago the Centre released Rs 10,460.87 crore to Andhra Pradesh as compensation towards revenue deficit. This is the biggest grant to the state since bifurcation.
Vijayasai Reddy said on Wednesday that CM Jagan's persistent effort paid. Off in the form of the Central government releasing Rs 10,460.87 crore as compensation for revenue deficit of 2014-15.
He said that YSRCP will ensure that gradually all promises related to the AP Reorganisation Act are fulfilled.