Politics
Andhra CM flags off tractors, harvesters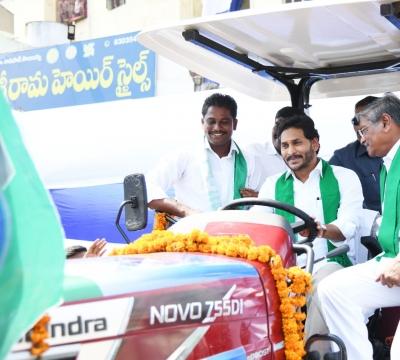 Andhra CM Y.S. Jagan Mohan Reddy on Friday formally flagged off tractors, combine harvesters. And other farm machinery worth Rs 361.29 crore under the second phase of the YSR Yantra Seva Scheme.
Andhra CM The Chief Minister also formally launched 4,019 YSR Yantra Seva Kendras.
Handing over 2,562 tractors, 100 combine harvesters and 3,573 farm machines. To the RBKs-attached farmers' groups, the Chief Minister said that 40 per cent subsidy would be given on purchase of these machines while 50 per cent of the cost is arranged through loans and the groups are asked to pay 10 per cent of the cost.
The Chief Minister directly released Rs 125.48 crore of subsidy into the bank accounts. Of farmers' groups with the click of a button.
The tractors and harvesters would be at the disposal of 10,444 RBKs, he said, adding that cluster level community hiring centres (CHCs) would supervise the operations.
He said the state overnment handed over 3,800 tractors, 391 combine harvester. And 22,580 farm machines worth Rs 690.87 crore to farmers' groups working. Under 6,525 RBKs in the first phase with a subsidy of Rs 240.67 crore, besides setting up 391 CHCs.
The scheme aims at reducing cost of cultivation and enhancing. Farmers' income through mechanisation, he said, adding that tractors, harvesters. And other machines can be hired by farmers for lesser rents.
The government will also launch the YSR Yantra Seva App. And farmers can seek the services with the help of the app which can be accessed at RBKs, he said.
The Chief Minister said that sprayers, tarpaulins and breeders would be distributed in October, which would benefit 7 lakh farmers.