Politics
BJP s desperation to infuse life into NDA impact of 26 Oppn parties coming together: Congress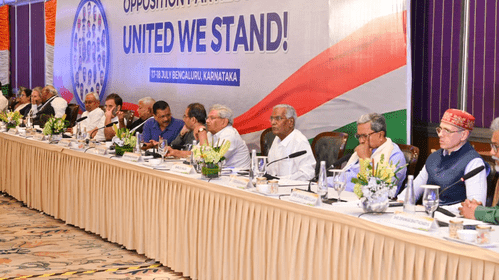 The Congress on Monday took a dig at the BJP, saying that the saffron party desperately trying to infuse life into the National Democratic Alliance (NDA) is the direct impact of 26 Opposition parties coming together.
The Congress' remarks came after BJP President J.P. Nadda told the media on Monday that 38 partners will attend the NDA meet in the national capital on Tuesday.
Taking a swipe at the BJP, Congress General Secretary Jairam Ramesh said, "Suddenly the NDA is being sought to be revived years after it had become a farce. This is the direct impact of 26 Opposition parties coming together. After the Patna conclave on June 23, and the fact that more parties are attending the Bengaluru conclave, the BJP is desperately trying to infuse life into the NDA."
Even earlier in the day, before leaving for Bengaluru, Congress President Mallikarjun Kharge. Told media, "Having told the Parliament earlier that he alone can take on the entire Opposition, why is Prime Minister Narendra Modi trying to get more than 30 parties together?"
Kharge claimed that the BJP is rattled by the Opposition unity and is only seeking comfort in numbers.
Kharge, who is also the leader of the opposition in the Rajya Sabha, said that the Opposition. Parties had been meeting for a long time, especially during Parliament sessions.
He also asserted that he had not heard of 30 NDA partners earlier.
"The PM had said I alone am sufficient for the entire Opposition while speaking in the Rajya Sabha. Why is he then bringing over 30 parties together? Who are these 30 parties, what are their names, are they all registered with the Election Commission?" Kharge asked taking a swipe at Modi.
He said, "They are rattled seeing what we are doing and are now trying to bring. Together those parties which had been splintered just in an attempt to show numbers."
Congress General Secretary (Organisation), K.C. Venugopal, said in a tweet, "The BJP is clearly rattled by our unity and now they are being forced to hold their own 'alliance meeting'. That, for us, is the biggest sign of success.
"We will continue to raise our voice against the undemocratic attitude of the government. They have been running roughshod over the federal structure, silencing dissent, and promoting. Divisions in the society for their political benefit."
For the second meeting of Opposotion unity, leaders from at least 26 parties. Have gathered in Bengaluru to prepare the roadmap for next year's crucial Lok Sabha elections. 
The first meeting of the Opposotion parties took place in Patna on June 23.