Politics
Data collected by volunteers in Andhra stored in Hyderabad: Pawan Kalyan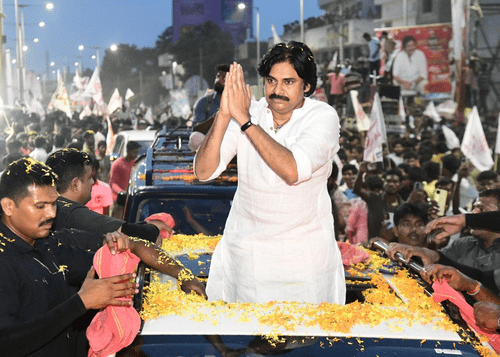 Firing a fresh salvo at Andhra Pradesh Chief Minister Y. S. Jagan Mohan Reddy over the volunteer system, actor-politician Pawan Kalyan on Wednesday questioned him on storing the public data in Hyderabad.
Continuing his attacks on the Jagan Mohan Reddy-led YSRCP government, the Jana Sena Party leader claimed that the data collected through volunteers in the state is stored at Nanakramguda in Hyderabad and demanded that the Chief Minister respond to why an agency in Nanakramguda has been given the data of Andhra Pradesh's people.
He also wanted to know who is paying salaries to 700 people working in the agency.

Pawan Kalyan was addressing a public meeting at Tadepalligudem under the second phase of Varahi Yatra.
Stating that he has nothing personal against volunteers, the JSP leader said he was speaking about the functioning of the system. He said some volunteers were caught in red sander smuggling, illegal liquor trade and thefts.
The actor also wanted to know who is heading the volunteer system. "The President heads the Red Cross in the country while in the state the Governor heads the organisation. Who is heading the volunteer system," he asked Jagan Mohan Reddy.
The JSP leader alleged that volunteers were threatening people at various places.
"Volunteers may be thinking that our Jagan Anna had gone to jail and came back and we will also go to jail and become leaders," he remarked.
Pawan Kalyan also said that he never dragged the Chief Minister's wife in controversies but Jagan Mohan Reddy has no manners. He also said Jagan Mohan Reddy has no right to continue in the office of the Chief Minister.
The JSP leader has been targeting volunteer system of the state government for the last few days. His allegation linking volunteers with the human trafficking in the state has kicked. Up a row with the YSRCP government hitting back at him and volunteers staging protests against his remarks.
Pawan Kalyan sought to know why the volunteer system was introduced parallel to the legislature, executive, and judiciary. He stated that there is no mechanism to regulate the volunteer system, if it goes wrong.
The actor politician had Tuesday sought to know where the entire data gathered. By volunteers is stored, and who will be responsible if such sensitive data is misused.
"Why is Jagan silent when a volunteer, who is supposed to render selfless service, has sexually. Assaulted a six-year-old girl?'' Pawan Kalyan asked and said he would ensure that the parallel system is abolished