Politics
Former Andhra minister Kanna Lakshminarayana joins TDP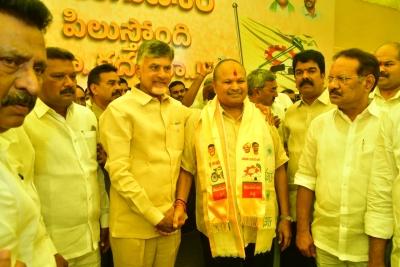 Former Andhra Pradesh minister Kanna Lakshminarayana, who resigned from the Bharatiya Janata Party (BJP) last week, has joined the Telugu Desam Party (TDP).
Kanna formally joined the TDP in the presence of the party's national president and former chief minister, N. Chandrababu Naidu.
Naidu offered yellow colour scarf to Kanna to admit him in the party.
A large number of followers of the former minister also joined the TDP with him.
Kanna started from his residence in Guntur with hundreds of supporters. The procession with a large number of cars reached the TDP office at Mangalagiri.
As per the mahuratam, Kanna joined TDP at 2.48 p.m.
Speaking on the occasion, Naidu said that he heartily welcomes Kanna into the TDP fold. He termed this as a good augur for the TDP.
The TDP chief said that Kanna has a special place in state politics. He recalled that the former minister had become active since his student days to come up in politics.
Naidu noted that Kanna was elected as MLA for five terms and also served as minister from 2004 to 2014.
Kanna quit the BJP last week.
The senior leader, who earlier headed the BJP in the state, said that he was resigning due to the state BJP president Somu Veerraju's style of functioning.
He recalled that he joined the BJP in 2014 and worked as an ordinary worker.
He said, in recognition of his work, the party appointed him state president in 2018.
He claimed that he visited all 175 Assembly constituencies and announced candidates for the 2019 elections.
A five-time state legislator from Guntur district, Lakshminarayana severed his nearly four-decade association with the Congress to join the BJP in 2014, a few months after the elections.
He served as minister and held various portfolios in the cabinets of Y.S. Rajasekhara Reddy, K. Rosaiah and Kiran Kumar Reddy.