Politics
Kishan Reddy is new Telangana BJP chief, Purandeswari to head Andhra unit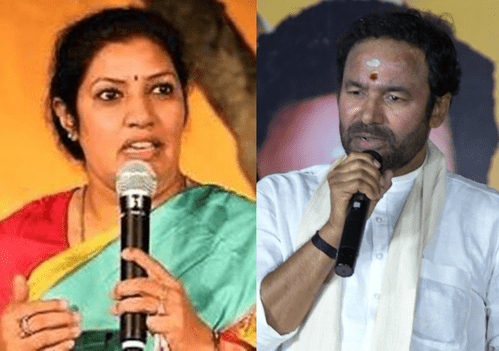 In a major overhaul to expand its presence in Telangana and Andhra Pradesh, the BJP on Tuesday appointed Union Minister G. Kishan Reddy and former union minister Daggubati Purandeswari as the new state party presidents respectively.
Kishan Reddy, currently minister for tourism and culture, replaced Bandi Sanjay, who is also an MP.
Purandeswari, who had joined the BJP in 2014, is daughter of former Andhra Pradesh Chief Minister and Telugu Desam Party (TDP) founder N. T. Rama Rao.
She replaced Somu Veerraju. BJP national president J. P. Nadda appointed new state BJP presidents.
He also appointed former Andhra Pradesh chief minister Kiran Kumar Reddy as a member of the national executive committee of the BJP.
Kiran Kumar Reddy, the last chief minister of united Andhra Pradesh, had joined the BJP a couple of months ago.
Former Telangana minister and BJP MLA Eatala Rajender has been appointed as chairman of the election management committee of Telangana BJP.
Assembly elections in Telangana are due to be held later this year while Assembly polls in Andhra Pradesh are scheduled along with Lok Sabha elections next year.
The new appointments were made after several weeks of speculations.
BJP general secretary incharge for Telangana Tarun Chug had recently ruled out any change in state leadership.
Eatala Rajender and some other leaders were unhappy with the style of functioning of Bandi Sanjay and they had been demanding the central leadership to remove him.
Similarly, a section of BJP leaders in Andhra Pradesh were demanding a change in the state leadership.
The BJP has three MLAs in the 119-member Telangana Assembly.
The party has four MPs from the state. The saffron party has no representation in Andhra Pradesh Assembly. It had also drawn a blank in 2019 Lok Sabha elections.