Politics
NTR's 'Chaitanya Ratham' centre of attraction on TDP foundation day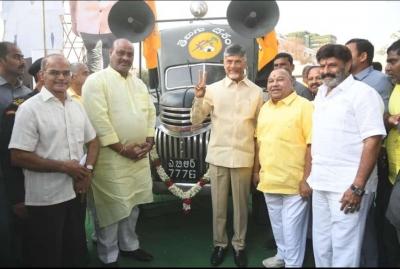 The Telugu Desam Party (TDP), on its 41st formation day on Wednesday, showcased in Hyderabad its founder N. T. Rama Rao's famous 'Chaitanya Rathama' which had helped him catapult to power in undivided Andhra Pradesh in early 1980s.
The TDP put on display the 1940 model Chevrolet van used by NTR for a state-wide campaign, at a meeting organised at Exhibition Grounds in Hyderabad to mark the formation day of the party.
With the 'Chaitanya Ratham' (chariot of awakening), NTR had introduced the new trend of the Rath Yatra in politics. He undertook a state-wide journey in this vehicle to address roadside meetings in all the districts to instill a sense of self-respect among Telugus.
With this customised Chevrolet van, which is said to have logged 75,000 km, NTR changed the course of Andhra Pradesh politics.
The legendary Telugu actor had floated the TDP on March 29, 1982 on the slogan of Telugu self-respect. He created a record of sorts by coming to power within nine after forming the party, ending the monopoly of the Congress in the state.
Interestingly, NTR's son Harikrishna had also become famous as 'Ratha sarathi' (charioteer) of 'Chaitanya Ratham'.
TDP national President and former Chief Minister N. Chandrababu Naidu along with party leaders from both Andhra Pradesh and Telangana went down the memory lane with a close look at the historic campaign vehicle.
Chandrababu Naidu, who is son-in-law of NTR, paid rich tributes to the late leader and recalled his services for the people.
He said NTR brought recognition to Telugus across the world and strived for their all-round development. He said the TDP would continue to work in both the states to fulfill NTR's ideals.
Large number of TDP leaders and workers from both the states attended the meeting.