Politics
Pawan Kalyan may announce JSP roadmap on March 14 for Andhra polls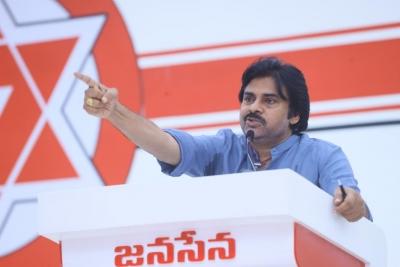 Jana Sena Party (JSP) leader Pawan Kalyan is likely to declare a roadmap to take on ruling YSR Congress Party (YSRCP) in Andhra Pradesh in the next year's elections when he addresses a public meeting on March 14 to mark party's formation day.
The actor politician is likely to announce his party's stand on possible alliance with Telugu Desam Party (TDP) in the next year's general elections in Andhra Pradesh.
The JSP leader will address a public meeting at Machilipatnam in Krishna district to mark 10th formation day of the party.
Pawan Kalyan may also declare JSP's strategy for Assembly elections in Telangana which are scheduled to be held towards the end of this year.
However, as the public meeting is being held in Andhra Pradesh, the actor politician is likely to focus on the state which is a top priority for his party.
Pawan, an ally of BJP, is also expected to give clarity to the JSP cadres on the future of the alliance with the saffron party. He is keen to have TDP on board so that the alliance avoids a split of anti-YSRCP votes. The BJP has still not responded to his suggestion.
At the JSP formation day meeting in Guntur last year, he had hinted at an alliance with the TDP. He had stated that he would not allow a split of anti-establishment votes at any cost.
On January 24, Pawan Kalyan had said that if BJP says no to electoral alliance in Andhra Pradesh, his party may go it alone or have new alliances.
He, however, said clarity on electoral alliance will come after the announcement of election dates.
With his specially designed campaign vehicle, he is ready to embark on a state-wide yatra to gear up the party for the elections.
Pawan, who met TDP president and former chief minister N. Chandrababu Naidu twice in recent months, said that he wants to avoid split of votes and hence calling for the parties to come together.
"They may come or may not come. We already have an alliance with the BJP. If they say no, we will go it alone," he had said, adding that JSP is also ready for new alliances.
Jana Sena Political Affairs Committee chairman Nadendla Manohar has said that the public meeting at Machilipatnam will be the biggest meeting of the party since its inception. The party expects four lakh people for the meeting
He announced that Pawan will reach the venue of the meeting from the party office at Mangalagiri in his campaign vehicle 'Varahi'.