Politics
Purandeswari takes charge as Andhra BJP chief, attacks Jagan government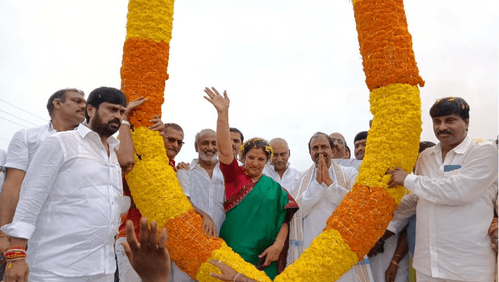 Former union minister Daggubati Purandeswari on Thursday launched a scathing attack on YSR Congress Party (YSRCP) government soon after taking charge as BJP's Andhra Pradesh unit president.
She took charge at BJP state headquarters here in the presence of former state BJP president Somu Veerraju, Vishnuvardhan Reddy and other leaders.
Purandeswari reached Vijayawada from Hyderabad, where she offered tributes to her late father and former chief minister N. T. Rama Rao.
She broke down at the samadhi of NTR, the founder of the Telugu Desam Party (TDP).
On arrival at Gannavaram Airport, she was accorded a warm welcome. By state BJP leaders and cadres and reached the party office in a big convoy.
Former chief minister Kiran Kumar Reddy, Somu Veerraju, Satya Kumar and other leaders accompanied her.
Addressing media persons after taking charge, she said that she will try to strengthen the party in the state.
She alleged that a propaganda is going on in the state against BJP.
Purandeswari claimed that BJP was extending support to Andhra Pradesh without linking this support to votes.
Targeting Jagan Mohan Reddy-led YSRCP government, she demanded it to make public the facts relating to Centre's support to the state.
he said though the Centre was extending assistance for many schemes, the state government was claiming the schemes as its own.
She pointed out that farmers are getting Rs 6,000 under PM Kisan Samman Nidhi but this money is being given as DBT under Rythu Bharosa scheme of the state government.
She questioned what happened to Jagan's promise to provide Rs12,500 each to farmers as investment support.
Purandeswari said Rs 20,000 crore was given to state by the Centre for construction of houses in nine years. While 65 per cent houses should have been completed by now, not even 35 per cent work is completed.
What is YSRCP's response to poor, she asked. She asked Jagan government to explain where the funds provided by the Centre under various schemes had gone.
She also slammed the YSRCP government over delay in construction of Polavaram project. she said that if the state government can't complete the work, it should. Leave it for Centre which is funding the project.
The BJP leader also took the state government to task over "bad law and order situation". She said a class 10 boy was burnt alive by pouring petrol.
She alleged that kidnappers in another case took shelter in ruling party MP's house for two days.

Purandeswari said the condition of roads in the state was pathetic. Barring national highways developed by the Centre, the condition of all other roads is pathetic, she said.
The BJP leader said no ne investors were coming forward to invest in the state. While existing industrials units were shifting to other states.