Politics
Telangana polls: Revanth Reddy promises 24-hour free power supply to farmers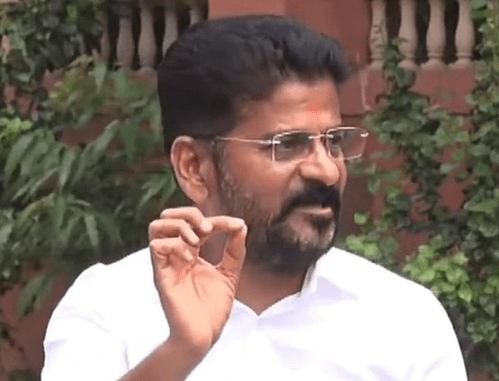 The issue of power continues to dominate election campaign in Telangana with state Congress chief A. Revanth Reddy on Tuesday promising that if voted to power, Congress will ensure 24-hour free power supply to farmers.
Claiming that it was Congress which started supplying free power to farmers, Revanth Reddy gave a clear assurance that once voted to power in Telangana, Congress will provide 24-hour free power to farmers.
Revanth Reddy's promise at an election rally in Wardhannapet constituency came amid the continuing attack by ruling Bharat Rashtra Samithi (BRS) over his reported statement that farmers don't need 24-hour power and that three-hour power supply will be sufficient.
At every election rally, Telangana Chief Minister and BRS President K. Chandrasekhar Rao has been citing the statement Revant Reddy reportedly made during his visit to the United States a couple of months ago.
"Do you want 24-hour power or 3-hour power," KCR asks the audience while claiming that Telangana is the only state in the country supplying 24-hour free electricity to farmers.
He also explains how after the formation of Telangana 10 years ago, the BRS overcame power problems and rolled out 24-hour free power for farmers.
BRS working President K.T. Rama Rao and other leaders of the ruling party are also slamming the Congress on the power issue.
"Do you want current or Congress," asks KTR at his road shows.
He is also cautioning people that if Congress comes to power, Telangana will plunge into darkness like Congress-ruled Karnataka.
Reeling under power shortage, Karnataka is supplying only five-hour power to the farmers, the state's Deputy Chief Minister D.K. Shivakumar had revealed this at a few election rallies he addressed in Telangana.
KCR had mocked Shivakumar, saying he should be ashamed for presenting this as an achievement in a state which is giving 24-hour power.
Recently, a group of farmers from Karnataka had visited some areas in Telangana to 'caution the people of the state against voting Congress to power'.
However, the Telangana Congress leaders had alleged that BRS brought some hired people from Karnataka to malign the party.
Apparently, to counter the BRS leaders, Revanth Reddy has now started declaring that after coming to power, they will supply 24-hour power to farmers.
At the public meetings on Tuesday, he said that even before anyone could think, Congress gave free power to farmers 20 years ago.
"KCR is teaching us how to do it. It's like teaching a grandfather. We have done it already. Once coming to power, it's our responsibility to give 24-hour free and quality power to all the farmers," he said.
Revanth Reddy said KCR is also running a false propaganda against the Congress that if it comes to power, it will stop the implementation of Rythu Bandhu.
He pointed out that the Congress has also announced under the six guarantees that every farmer will be provided annual financial assistance of Rs 15,000 per acre. Even agricultural labourers will get Rs 12,000 every year, he said.