Politics
YSRCP taunts TDP over not getting invite for NDA meet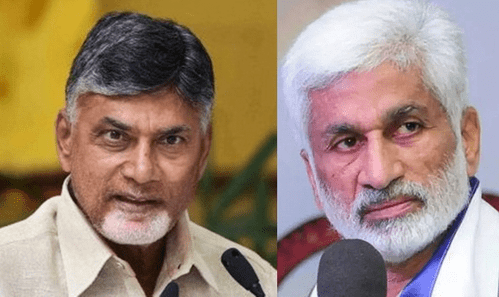 The YSRCP Congress Party has taunted the Telugu Desam Party (TDP) over the latter not being invited for the National Democratic Alliance (NDA) meeting.
YSRCP Parliamentary Party leader V. Vijayasai Reddy on Tuesday took to Twitter to ridicule the main opposition party. He stated that despite all the lobbying, TDP was not invited to the NDA meeting. He remarked that the coverts who were sent to the BJP failed in every possible way.
The Rajya Sabha member said that TDP president N. Chandrababu Naidu does not know what trouble he is in. Opportunistic politics will have to pay the price, he added.
TDP, which had snapped ties with BJP in 2018, has not been invited. To the NDA meeting being held in Delhi on Tuesday.
BJP expects 38 parties to attend the meeting which coincides with the meeting of opposition parties in Bengaluru.
Chandrababu Naidu, whose party lost power in Andhra Pradesh to YSRCP in 2019, is keen to revive the alliance with the BJP. As part of his efforts, he met BJP president J. P. Nadda and Union Home Minister Amit Shah last month.
Jana Sena Party (JSP) leader and actor Pawan Kalyan has already reached Delhi to attend the NDA meeting. He is in favour of the TDP-BJP-JSP alliance to ensure the defeat of YSRCP in the next year's elections.
YSRCP is not part of either NDA or the opposition parties. It is confident of not only retaining power in Andhra Pradesh but also playing a key role in formation of the next government at the Centre.
Vijayasai Reddy underlined this in his earlier tweet. "The NDA with 30 parties is meeting in Delhi and 24 opposition parties are meeting in Bengaluru but this time the road to Delhi in 2024 will pass through AP," he wrote.
"The Govt. at the Centre will be possible with the support of YSRCP. As it has the blessings & popular vote of the people of AP. All the surveys done so far, including those by national media, indicate YSRCP will again have a massive victory," he added.