Sports
Asian Champions Trophy hockey: India survive pressure to prevail 3-2 over Korea in key clash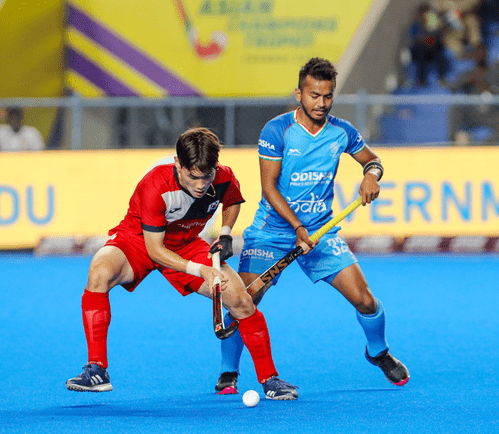 The Indian men's hockey team survived some fightback from the Republic of Korea to emerge 3-2 winners in a league match of the Asian Champions Trophy at the Mayor Radhakrishnan Stadium here on Monday.
The Indian team defeated defending champions Korea in a thrilling encounter which could. Have seen India winning by a bigger margin if the Indians had made better use of their opportunities including a penalty stroke. 
Nilakanta Sharma (6′), Harmanpreet Singh (23′) and Mandeep Singh (33′) scored in India's win while Kim Sunghhyun (12′) and Jihun Yang struck for Korea. The victory put India on the top of the pool table.

It was an entertaining start to the match, with both teams playing to their potential. After a brief tussle for ball possession in the early minutes of the quarter, India found their rhythm in the 6th minute when Nilakanta Sharma opened the scoring for the hosts.
Forward Sukhjeet did well to beat two Korean defenders at the baseline before assisting Nilakanta. Korea, however, responded quickly with an equaliser in the 12th minute via Kim Sunghhyun. It was the experienced Manjae Jung, who found Kim at the edge of the circle, setting up a fine field goal.
 
After a roaring start, India extended their lead swiftly and earned a penalty corner. When a Korean defender committed an infringement in the circle, resulting in a PC in the 23rd minute. 
After a re-take, Harmanpreet fired low to the right of the Korean goalie. The 2-1 lead gave India the right pace and aggression to up the pressure on the Korean defence. Though no more goals came through in the second quarter, India further extended their lead after the ten-minute half-time break.

This time, it was Mandeep Singh who took his individual tally to 101 international goals when he gave India a 3-1 lead. It was Shamsher, scooping it between two defenders to Mandeep in the circle. The experienced striker came up with an attractive tomahawk into the net.

The 33rd-minute goal gave India enough ammunition to attack the Korean defence line. Akashdeep Singh, Manpreet and Mandeep worked in tandem to take turns creating scoring opportunities, but they could not quite connect.

The fourth quarter began with India winning a PC, but Harmanpreet's drag-flick hit the foot of Jang on the post. A penalty stroke was awarded to India, but it was brilliantly saved by Kim Jaehyeon. The following minutes of the quarter witnessed the brilliance of Jaehyeon, who made save after save, stopping India from taking their scoreline to 4-1.

Meanwhile, their forward line pushed for goals via PCs. They won a couple in the dying minutes of the match. But could not convert any. They eventually converted in the 58th minute through a PC scored by Jihun Yang.

India, however, held on to their lead to register a well-earned victory and pocketed three points to top the table.