Sports
Asian Games: India bags gold in Womens 25m Pistol shooting; silver in Womens 50m Rifle 3-positions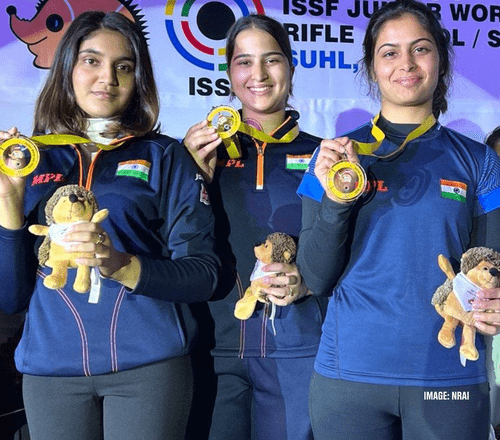 Rhythm Sangwan, Manu Bhaker and Esha Singh came up with a superb performance to take gold in the Women's 25m Pistol Team competition while the team of Sift Kaur Samra, Ashi Chouksey and Mannini Kaushik claimed a silver medal in the Women's 50m Rifle 3-positions as India continued to reap rich rewards at the shooting ranges here at Fuyang Yinhu Sports Centre on Wednesday.
These were India's sixth and seventh medals from the shooting ranges in three days of competition. And they are expecting more on Wednesday with Indian shooters. In medal contention in Indian competitions in both women's 25m Pistol and 50m Rifle 3-Positions. The shotgun shooters are going through the second phase of their competitions in the men's and women's skeet events.
However, it was the Women's 25m Pistol Team that took the spotlight on Wednesday. Morning as the team of Manu, Rhythm and Esha continued from where they had left off at the end. Of the first phase on Tuesday and covered themselves in glory with a good performance in Rapid fire section. The Indians were already in the lead after the precision round on Tuesday.
They finished with a combined score of 1759, finishing ahead of China, who had a score. Of 1756 with Korea taking the bronze medal with a score of 1742.
At the end of the first day of precision shooting, the Indians had a total of 887 as compared to 874 of the Chinese. On Wednesday, the Indians complied a score of 883 while the Chinese shot 882 as they gave the Indians a tough fight. In the end, the big advantage the Indians gained on the first day –especially in the opening series in which they bagged 292 points while the Chinese could manage only 288 — of the two-day competition proved enough for them to claim the top spot and the gold medal.
Earlier, it was the ball was set rolling in the Women's 50m Rifle 3-position. By Sift, Ashi and Mannini who claimed a silver medal in the Team competition. The Indian team finished with a total of 1764 points to finish behind the Chinese team.
The Indian team of Sift, Mannini and Ashi shot an aggregate score of 1764 to finish behind. The Chinese team of Han J, Xia S and Zhang Q, who had a total of 1773.
Republic of Korea Finished third for the bronze medal with a score of 1756.