Sports
Asian Kabaddi Cship: India beat Iran in the final to reclaim title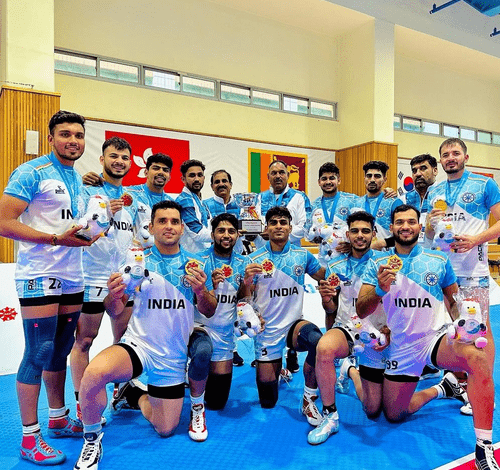 India reclaimed the Asian Kabaddi Championship title after beating Iran 42-32 in the final here at the Dong-Eui Institute of Technology Seokdang Cultural Center on Friday.
This was India's eighth title in the last nine editions played so far while Iran won the title once, in 2003.

India trailed Iran in the first five minutes of the game. However, a couple of tackle points by the defenders and successful raids from Pawan Sehrawat and Aslam Inamdar handed Iran their first All-Out of the match in the 10th minute.
India kept building pressure on the Iranians and produced another All-Out and at the end of the first half, India led the final period by 23-11.
All-rounder Mohammadreza Chiyaneh tried to make a comeback for the Iranian side in the second half with a two-point raid followed by a super raid that helped inflict the first All-Out on India in the 29th minute.
The two teams were giving it their all in this high-voltage encounter but India held on to eke out a 42-32 win.
Earlier in the day, India had beaten Hong Kong 64-20 to end the league stage of the tournament undefeated.
India won all five matches in the league stage and topped the points table. Iran came second, only losing to India in the league stage, and made the final.
The next big challenge for the Indian kabaddi teams will be the upcoming Asian Games in Hangzhou, China from September 23 to October 8. Iran, who beat India in the semifinals in Jakarta in 2018, will be the defending champions at the continental multi-sport showpiece.