Sports
I m not actually sure…lot of concerns in middle-order: Yuvraj on India s chances in 2023 World Cup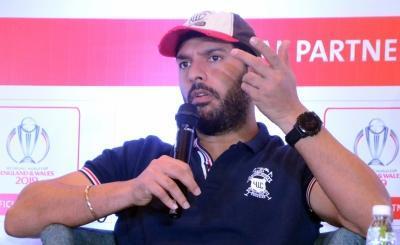 Former all-rounder Yuvraj Singh on Tuesday said that he is "not sure, to be honest" if India are going to win the 2023 World Cup at home.
In a freewheeling chat on a YouTube channel Cricket Basu, the cricketer pelted the sports presenter with candid views on the state of Indian cricket. And no, Yuvraj isn't impressed.
So much so when he was asked about India's 2023 World Cup chances, he said: "I am actually not sure to be honest if they are going to win the World Cup, I can say like a patriot that India will win. I see a lot of concerns in the Indian team in the middle-order because of injuries.
"It is frustrating seeing them (India) not to win a world Cup but it is what it is," said a visibly agitated Yuvraj when asked about the Indian cricket team's up-and-down performances of the last ten years.
He also made no bones about the fact that it's the combinations that have been letting the Indian squad down. "We have a sensible captain, Rohit Sharma. They should get their combination right. We need a couple of games to get ready. We should have a pool of at least 20 players to pick a squad of 15 out of."
According to Yuvraj in the run up to the World Cup, "The top order is fine but the middle order needs to be sorted. Slots 4 and 5 are very important. If Rishab pant is batting fourth for the IPL franchise, then he should come in at number 4 even for the national squad. The number four batsman cannot be a flamboyant run getter. He has to be someone who can absorb the pressure."
He also suggested that India can't be in experimental mode while playing pressure matches like the knock-out games.
Asked about the ideal No.4. the position which he made his own, Yuvraj suggested. KL Rahul name and in same breath took Rinku Singh's name for the spot. "Rinku Singh was batting really well. I think he has the sense to create partnership and retain that strike. It is too early. If you want him, you have to give him enough matches," Yuvraj added.
For fans who would like to see Yuvraj associated with the game at the highest. Level he quips, "Yes, I think that I would make a good coach. But for that you have to be in the system."
He also has hopes for Indian cricket now that former cricketer Ajit Agarkar. Is also a good choice as the chairman of the selection committee.