Sports
I will try and crack the code of 50-over format, says Suryakumar Yadav ahead of Asia Cup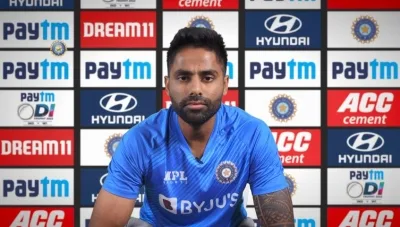 India's middle-order batter Suryakumar Yadav stated that he would try to crack the code of excelling in the 50-over format ahead of the upcoming Asia Cup, adding that he is having conversations with head coach Rahul Dravid, as well as skipper Rohit Sharma and talismanic batter Virat Kohli in this regard.
Suryakumar, the top-ranked T20I batter, has played 26 ODIs and averages only 24.33 at a strike-rate of 101.38. The right-handed batter made scores of 19, 24 and 35 in the recent ODIs against the West Indies, and before that, he was dismissed for three consecutive first-ball ducks against Australia at home in March.
"I feel the role which will be given to me, I will try to maintain that role, and if it's a changed role I will try and do that. But yeah, this is one format in which I'm really looking forward to doing well. Everyone is saying that 'T20 is going good for me, both are white ball cricket. But why I am not able to crack the code in the 50-over format.' But, I am doing my practice because according. To me, this format is the most challenging one," Suryakumar told Star Sports.
"The reason behind this is because here you have to play like the other 3 formats. First by setting down with calmness and composure, then rotating the strike well, followed by at last the T20 gameplay.
"So, balance is very important in this format, and for that reason, I am doing a lot of practice and also having conversations regarding this with Rahul Sir, Rohit bhai, and Virat bhai. Hopefully, with this tournament going forward, I will crack the code," he added.
The right-handed batter is hopeful that his hard work in the ongoing camp. In Bengaluru will help him crack the ODI code in the Asia Cup. 
"I am just trying to keep my intent and approach the same at least because. It's very important to stick to your approach when you are playing this sport. But I am trying to play with the situation."
"For example, if I am going to bat at the 30th over and 20 overs are remaining, then from. The beginning I can't play my game as I play in T20 because there we will be only down. With one wicket and here four wickets, so I have to play with that situation. So I am doing my practice in that way to decode this format, and hopefully, I will decode it with the sort of preparation I'm having."
Suryakumar added that he always looks to be ready for anything, irrespective of the situation in the match.
"I always remain in top gear. I always feel excited when I am in the dugout because I eagerly wait for the time when I will go to bat. Also, if I get dismissed on the first ball, still I have no problem because my preparation and excitement inside the dugout remain the same," he added.
"My heart rate becomes high when a wicket falls every time, thus I always run. Into the crease because I feel good when my heart rate is high, it is in zone 5. Whenever I play the first ball, I feel I should always be ready for anything," he said.
"If I have to hit a four or six, that doesn't matter to me because. I have this set plan always in my mind whenever I go to bat. When I play one or two good shots or my running between the wickets is going well, then I feel. I am in my zone and I can score some big, valuable runs for my team."