Sports
Minor wrestler s father says stands by sexual harassment charges against WFI chief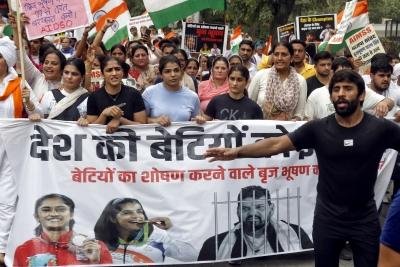 The father of a 17-year-old Minor wrestler, who levelled sexual harassment charges against Wrestling Federation of India (WFI) chief Brij Bhushan Sharan Singh, on late Sunday asserted that he has not withdrawn the charges.
Speaking toThebetterandhra.com, the father of the victim. Asserted that whatever is running on social media regarding the "withdrawal" of their statement (on the charges) is fake.
"We stood by our statement and I am out of the station. And neither in Delhi nor Haryana," he said, seeking to end the spreading speculations on the issue.
Two days ago, farmers and representatives of Khap panchayats (community courts) gave the Centre an ultimatum to arrest Singh by June 9 or prepare for a larger protest.
A collective and unanimous decision in this regard. Was taken at the 'mahapanchayat' held in Haryana's Kurukshetra town on the future strategy of wrestlers' protest.
On June 1, a 'mahapanchayat' was held in Uttar Pradesh's Muzaffarnagar. Where it was decided that a delegation would meet President Droupadi Murmu to seek justice for the wrestlers.
At the Kuruksheta mahapanchayat, Bhartiya Kisan Union leader Rakesh Tikait warned the Central government that if they aren't allowed to protest at Jantar Mantar on June 9, "there will be an announcement of agitation."
The farmer leader also demanded that cases. Against the wrestlers, who were manhandled and detained during their march towards. The new Parliament building during its inauguration on May 28, should be withdrawn.
The same day, Delhi Police had cleared their protest site at Jantar Mantar.