Sports
Opener Murali Vijay announces retirement from all forms of international cricket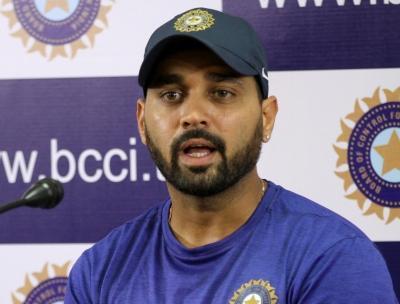 India opener Murali Vijay has announced his retirement from international cricket. Vijay, the right-handed opener, last represented India in the 2018 Perth Test while his last first-class appearance for his state team Tamil Nadu came in the Ranji Trophy in December 2019.
"Today, with immense gratitude & humility, I announce my retirement from all forms of International cricket. My journey from 2002-2018 has been the most wonderful years of my life for it was an honour representing India at the highest level of sport," he said in an official statement through his social media accounts.
In his 61 Tests for India, Vijay scored 3982 runs averaging 38.29, including 12 centuries and 15 fifties, and was also leading run-scorer in the 2014 Test tour of England. He also featured in 17 ODIs and nine T20Is for India, scoring only 339 and 169 runs respectively.
"I am grateful for the opportunities given to me by the Board of Control for Cricket in India (BCCI), Tamil Nadu Cricket Association (TNCA), Chennai Super Kings and Chemplast Sanmar."
"To all my team-mates, coaches, mentors and support staff: It has been an absolute privilege to have played with you all, and, I thank you all for helping turn my dream into reality," he added.
In his first-class career, Vijay has played 135 matches, scoring 9205 runs, including 25 hundreds and 38 half centuries. In the Indian Premier League (IPL), Vijay was an integral member of the Chennai Super Kings side winning the trophy in 2010, 2011 and 2018.
"To cricket fans that have supported me through the ups & downs of international sport, I will forever cherish the moments I spent with you all and your support has always be a source of motivation for me."
"Lastly, I would like to thank my family & friends for their unconditional love and support throughout my career. They have been my backbone and without them, I would not have been able to achieve what I have today," he further said.
Vijay, who had returned to competitive cricket after a two-year absence through the 2022 Tamil Nadu Premier League (TNPL), playing for Ruby Trichy Warriors, signed off by saying he will seek playing as well as business opportunities in a new atmosphere.
"I am excited to announce that I will be exploring new opportunities in the world of cricket & the business side of it, where I will also continue to participate in the sport that I love and challenge myself in new and different environments."
"I believe that this is the next step in my journey as a cricketer and I look forward to this new chapter in my life. I wish all my former teammates and the Indian cricket team all the best for their future endeavours. Thank you for all the memories, Love to All More to Life," he concluded.