Sports
Wimbledon 2023: Rohan Bopanna and his partner reach pre-quarters in men s doubles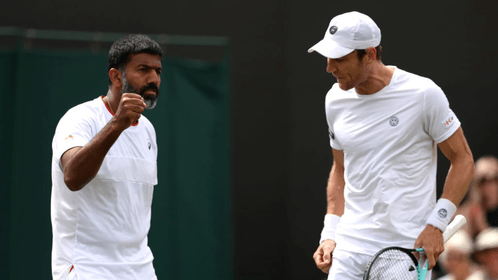 Indian tennis star Rohan Bopanna and his Australian partner Matthew Ebden reached the pre-quarterfinals in the men's doubles competition at Wimbledon on Monday, winning their second-round match in straight sets, here on Monday.
Wimbledon Bopanna and Ebden, seeded sixth here, defeated the British duo of Jacob Fearnley and Johannus Monday and reached the Round of 16 with a 7-5, 6-3 win just over one hour at No.3 Court here.
The 43-year-old Bopanna and the 35-year-old Ebden, who won titles at the Qatar Open and Indian Wells earlier this year, made a sedate start as they trailed 1-3 before getting a hang of things. However, the Indo-Australian pair found its rhythm in time and rallied to level the score at 4-4. The British duo put up a brief resistance but Bopnna and Ebden kept control of the match and pocketed the first set.
The Indo-Australian pair made a breezy start in the second set and raced to a 4-1 lead. The pair of Jacob Fearnley and Johannus Monday tried to edge back into the contest but the Indo-Australian pair snuffed off the challenge and sealed their place in the third round.
Bopanna and Ebden struck 10 winners as against four by their rivals while they won 26 of 30 points on first serve and capitalised on three out of seven break points to win the match.
The Indo-Australian pair, which defeated the Argentine pair of Guillermo Duran and Tomas Etcheverry in the opening round, will play the Dutch-American pair of David Pel and Reese Stalder in the pre-quarterfinals on Tuesday.