Sports
World Boxing Championship: 'He will bring home the gold medal', says pugilist Nishant Dev's father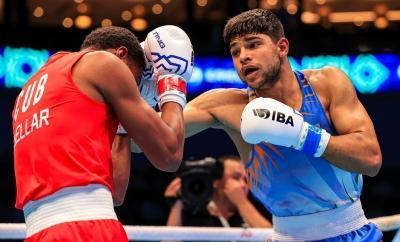 Ahead of the semi-final of IBA Men's World Boxing Championship Indian pugilist Nishant Dev's father, Pawan Kumar has.
Said he believes in his son's abilities and is confident that he will bring home the gold medal.
Nishant (71 kg), the youngster from Haryana has been on a sensational run and has assured a medal already, but fans will be hoping that he comes back with gold. He has already scripted history by becoming the first Indian boxer to defeat a Cuban at Men's World Championship.
Nishant's journey in the World Boxing Championship began in 2012, inspired by his uncle, a professional boxer. Under the guidance of his dedicated coach, Surender Chauhan, he honed his skills at the Karan Stadium. His unwavering determination and passion for the sport were evident as he tirelessly trained, with his father by his side.
Much like his idol Floyd Mayweather, Nishant showcased his fearlessness and exceptional boxing skills during the 2021 World Championships.His debut international tournament. He defeated formidable opponents such as Laszlo Kozak, a nine-time National Champion from Hungary, and two-time Olympian Merven Clair from Mauritius.
Although his journey ended in the quarter-finals, Nishant left a lasting impression with his remarkable performance.
Now, ahead of the semi-finals of IBA Men's Boxing Championship, Pawan Kumar, filled with pride and hope, has shared his heartfelt wishes for his son.
"I wish Nishant all the best for the upcoming semi-final and final in the World Men's Boxing Championship. His dedication, perseverance, and indomitable spirit have been inspiring. I believe in his abilities, and I am confident that he will bring home the gold medal," Kumar said.
The southpaw suffered a freak injury in 2010, when he dislocated his shoulder after falling from stairs.
"The previous shoulder injury resurfaced in 2022. But he persevered to come back, Nishant underwent surgery and embarked on an extensive rehabilitation process. His determination has paid off. I would also like to thank Inspire Institute of Sport for the role they played in training him," Kumar concluded.