Technology
GITA guidance at AI stall for G20 delegates in Lucknow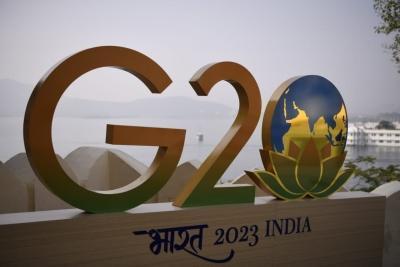 A modern GITA guidance, one that uses artificial intelligence, can help in finding a solution to life problems.
The AI stall, set up as part of the exhibition under the first digital economy working group meeting of G20 nations in Lucknow, gives a glimpse into this.
GITA is an acronym that means guidance, inspiration, transformation and action.
"The software has included all verses from the Bhagavad Gita that are used when someone asks a question. The answers are given using AI to help find solutions to problems in life," said Akash Goel of Tagbin, who had installed the AI technology.
After the user submits a question, the software responds to the query by bringing out the verse from the Bhagavad Gita.
"During his visit the chief minister spent some time at the virtual reality (VR) games platform," said Goel.
A special section 'Lucknow VR Tour' allowed visitors to witness picturesque city locations in minutes with a virtual experience that makes the user get a real feel.
The VR tour is based upon the video shoot done during the past one week.
The AI avatar stall was much sought after by the students who appeared eager to know the avatar they resembled most or were closest to.
In another stall, Journey of Digital India and the developments of different software used by India were specially prepared for visitors to know what all came on their cell phones and laptops since 2014.
As part of India's Presidency of the G20, the Union Ministry of Electronics and Information Technology (MeitY) is hosting the first Digital Economy Working Group (DEWG) meeting in Lucknow, Uttar Pradesh from February 13 to 15.