Technology
Global in-app spending hits record $67.5 bn, India largest market for Google Play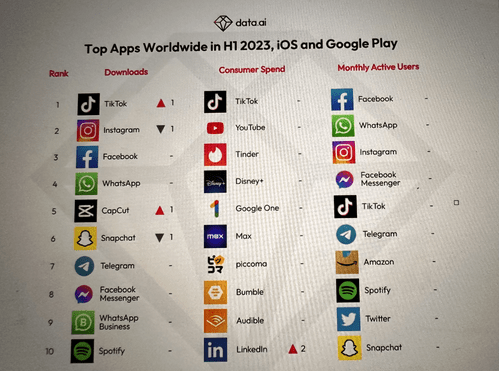 The global mobile market hit a record $67.5 billion regarding in-app consumer spend and registered 76.8 billion app downloads across iOS and Google Play in the first six months of this year, a report showed on Thursday.
Positive growth in mobile consumer spend returned at a healthy 5.3 per cent year-over-year in H1 2023 after a decline in 2022. App downloads were also up by 3.2 per cent, according to data.ai, the leading mobile data and analytics provider.
India, Brazil and Indonesia were the largest markets for downloads on Google Play in H1 2021, while Turkey, Russia and Indonesia saw the biggest upwards movement versus H2 2022 on the platform.
Whereas on iOS, China, the US and Japan were the top markets. By downloads with Brazil, China and the US posting the most growth versus H2 2022.
"The return to positive growth in H1 is an encouraging signal that the decline. In mobile consumer spend during 2022 may have represented a temporary blip in the long-term sustained growth. Of the mobile app market," said the report. 
Chinese short-video making app TikTok became the first app to surpass $1 billion in consumer. Spend in a quarter in Q1 2023, and also became the first app to surpass $2 billion, accumulating $2.1 billion in consumer spending in H1 2023. 
Piccoma, Disney+ and YouTube saw growth versus H2 2022 of 34 per cent, 10 per cent and 6 per cent, respectively.
Unsurprisingly, the social media giants dominated the top download and monthly active user (MAU) charts in H1 2023. ByteDance (TikTok and CapCut) and Meta (Instagram, WhatsApp and Facebook) controlled the top five spots by downloads, while Meta continued. Its dominance of the MAU rankings, the report noted.
The top five games by downloads in H1 2023 were the same as the second. Half of 2022, with Subway Surfers and Free Fire leading the way. 
Some new entrants included Block Blast Adventure Master from Hungry Studio and Attack Hole from Homa.
Another game on the rise in H1 was Gardenscapes, a match-3 title from Playrix.
The top mobile games by MAU were similar to H2 2022, led by Roblox, Free Fire and Candy Crush Saga.
The only new entrant to the top 10 was FIFA Soccer, which has maintained momentum. Built up during the FIFA World Cup in late 2022, the report said.