Technology
Instagram subscriptions expanding to more countries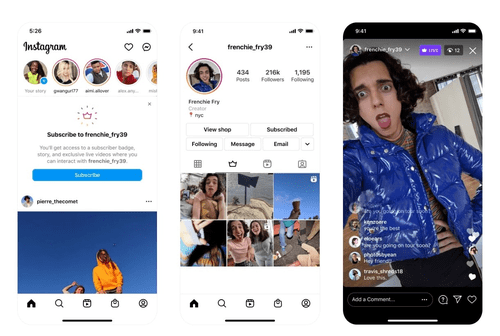 Meta-owned Instagram has announced that it is expanding the 'subscriptions' feature to more countries.
"In the coming weeks, eligible creators countries in Australia, Brazil, Canada, France, Germany, Italy, Japan, Mexico, Spain and the UK will be able access to Subscriptions and start earning through support from their fans," the company said in a blogpost on Monday.
With Instagram subscriptions, creators can develop deeper connections with their most engaged followers and grow their recurring monthly income by giving subscribers access to exclusive content and benefits.
Creators can set a monthly price of their choice for the subscription. They can create reels, posts and stories just for their subscribers.
Moreover, creators can share exclusive content, use interactive story stickers or even go live with their paying subscribers only. Creators can also give their subscribers special access or information in subscriber-only channels.
Also, creators will see a subscriber badge next to comments and messages their subscribers send so that they can easily identify and prioritise interacting with their paid users.
The social networking platform first introduced the subscriptions feature last year for US creators.
Last week, the Meta-owned platform had introduced some upgrades to Reels templates that help users easily find inspiration and create engaging Reels.
Users can browse templates by category in the Template Browser, organised by Recommended, Trending, and templates and audio they have saved.
The platform also said that it was enhancing the creation and editing experience for templates which would help elevate users' Reels in just a few taps.
Meanwhile, earlier this month, Meta had announced that it was rolling out real-time avatar calls on Instagram and Messenger. T
his feature will be helpful when users don't want to show their real faces during video calls and want a third option between camera-off and camera-on.