Technology
Meta now allows Quest users to tap, swipe in VR without controllers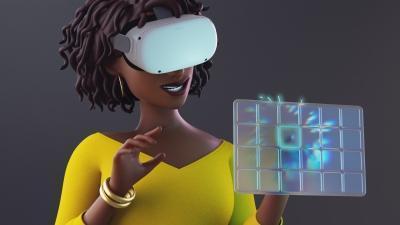 Meta announced that it is rolling out a new experimental feature "Direct Touch" with Meta Quest's latest "v50" update, which will allow users to tap and swipe in virtual reality (VR) interface without controllers.
With the new feature, users can now tap buttons with their index finger to adjust the settings or select a game from their library, quickly type out messages on the virtual keyboard and much more, the company said in a blogpost on Tuesday.
The Direct Touch feature is a major improvement to the company's hand-tracking technology, offering a more intuitive and engaging way to interact with the system and 2D panels in general.
The company also introduced a new "gesture for hands-based locomotion, which you can try out in the latest version of First Hand."
"We're adding in-game multitasking, allowing you to use a 2D app, like the Meta Quest Browser, without closing the game you're playing," it mentioned.
With the v50 update, the company also reduced the "amount of time it takes for tracking to initialise on the Meta Quest Touch Pro controllers".
Last month, Meta had improved its Quest's hand tracking technology with the v2.1 update and made it default for Quest applications.