Technology
Meta rolling out quests & rewards to all Horizon Worlds users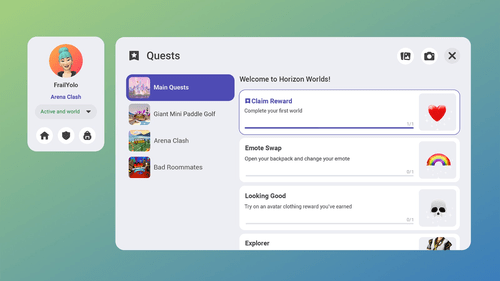 Meta has released a new 'v120' update for the social virtual reality (VR) platform 'Horizon Worlds', which includes quests and rewards for all users, a new quick actions menu to Pause and more.
"Now everyone in Horizon Worlds can earn exclusive rewards for their avatar by completing quests," the company said in a blogpost on Tuesday.
In the Worlds Menu, users will see the 'quests' icon, which opens up a new panel showing quests and the rewards they unlock.
"Get started by simply travelling to any world to unlock a new heart emote."
Users can claim rewards that they have unlocked from the quest panel and show them off to their friends.
New quests will be added regularly, along with new rewards.
The company is adding a quick actions menu so that users can quickly connect with someone nearby, mute or unmute people around them, and more.
Users just have to press, pause and hover over someone's name tag or avatar, then they will be able to choose from a list of actions based on how well they know someone.
"For example, if you just met someone, you'll be able to mute, block, or follow them. If you hover over the name tag of someone you've already muted, you'll be able to unmute, block, or report them," the company explained.
With the v120 update, users can also report bugs within Worlds by pressing the 'Home Button' on the right controller four times in quick succession.
Moreover, to make necessary quality improvements, Meta is temporarily disabling photo card access from the photo gallery.
However, users will still have access to photo cards from the mirror in Welcome Island.
With the new update, the company also fixed a number of bugs impacting world builders and editors.