Technology
New Apple software updates bring more power to Indian users across devices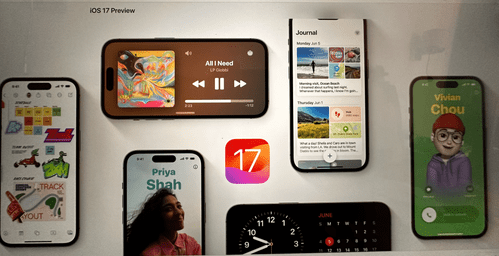 From bi-lingual Siri experience to more transliteration keyboards for major Indian languages, the latest Apple software updates across its platforms and devices have brought more power to millions of users in the country.
Apple has rolled out the public betas of its iOS 17, iPadOS 17, macOS Sonoma, watchOS 10, and tvOS 17.
iOS 17 is one of the best iPhone updates in years and there are several little tweaks. That stands out, like StandBy mode. keyboard improvements, live voicemail and new stickers.
iOS 17 and iPadOS 17 offer a convenient bilingual Siri experience, so users can interact with Siri using a mix of English and Hindi for activities throughout the day.
Users can also combine English with Telegu, Punjabi, Kannada, or Marathi.
This experience includes asking Siri for help with setting an alarm or timer, sending messages, making calls, playing music, checking the weather, and looking up directions
iOS 17 also brings new transliteration keyboards across major Indian languages such as Tamil, Telugu, Kannada and Malayalam.
These keyboards can be great for bilingual users who move between English. And another language while talking to family and friends.
The new features come at the heels of transliteration keyboards for Urdu, Punjabi, and Gujarati introduced in iOS 16.4, Bengali and Marathi introduced in iOS 16, and Hindi.

With this addition, iOS now supports transliteration keyboards for the top 10 languages in India.
With the built-in dictionary in Punjabi, you can easily get definitions of words and phrases. From a variety of sources (available on iOS, iPadOS, macOS public betas).
With iOS 17, you can see Messages sorted by their primary as well as secondary. SIM, to be able to easily sort personal messages from work messages.
Users can also set different ringtones for each SIM to understand if iPhone is ringing. Because someone is calling a work phone number or personal phone number.
If a user misses a call from a number that is not yet saved to their device, e.g. a new doctor's office, they can choose to call this number back from either SIM card.
One can sign into their Apple ID using a phone number instead of an email address (available on iOS, iPadOS, and macOS public betas).
You can also see a more extended call history in Recents within the Phone app, including. Phone and FaceTime calls, as well as calls received on WhatsApp (available on iOS and iPadOS).
When taking a screenshot of a full page in Safari, Mail, or Notes, users can choose whether. To save it to iPhone and iPad as an image or a PDF (iOS, iPadOS).