Technology
'Sanjeevani' drones to transport bio-medical supplies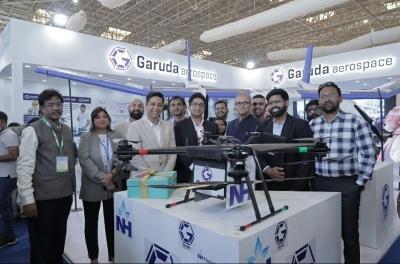 Drone technology provider Garuda Aerospace has announced a partnership with Narayana Health for transporting bio-medical supplies using its 'Sanjeevani' drones.
The partnership aims to "revolutionise the delivery of critical and emergency medical supplies – including samples for diagnosis in times of high traffic and other challenging conditions".
Garuda Aerospace, during the pandemic period, used its emergency drones to deliver medicines and vaccines to hospitals in partnership with Swiggy. The company's White Knight drones delivered essential medicines and vaccinations to Bengaluru hospitals for ISRO in 2021, demonstrating their capability in providing timely and efficient medical delivery.
Agnishwar Jayaprakash, Founder and CEO, Garuda Aerospace said, "Our aim is to improve access to critical medical supplies and support the delivery of high-quality healthcare to patients in need and in times of emergency. With this partnership, we are confident that we will be able to make a real difference in the lives of patients and communities across India. We are proud to be a part of this exciting journey."
Devi Shetty, Chairman and Executive Director, Narayana Health, said, "…The use of drones to transport biomedical samples is a critical step in achieving that goal. By partnering with Garuda Aerospace, we are able to leverage their expertise to improve the delivery of medical supplies and enhance the quality of care we provide across."
"In the first phase, drones will be deployed in Bengaluru to transfer biomedical samples from Narayana Health City and HSR Layout on a daily basis. In the next 1 year, our network of 21 hospitals will have these services," he added.