Telangana
Ambedkar's 125-feet statue unveiled in Hyderabad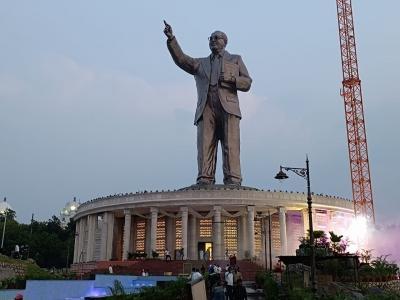 A 125-feet statue of Dr B. R. Ambedkar was unveiled on the banks of Hussain Sagar lake in the heart of Hyderabad on Friday coinciding with his birth anniversary.
Amid chanting of religious hymns by Buddhist monks, Telangana Chief Minister K. Chandrasekhar Rao unveiled the bronze statue in the presence of Ambedkar's grandson Prakash Ambedkar, state ministers and top officials.
Floral petals were showered on the statue from a special helicopter at the event attended by about 40,000 people who converged from various parts of the state.
KCR and Prakash Ambedkar went around the museum and gallery highlighting the life of the late leader. A special audio-visual on construction of the giant statue was also screened on the occasion.
Said to be the world's tallest statue of Ambedkar, it has come up adjacent to the newly built Telangana Secretariat, which has also been named after the chief architect of the Indian Constitution.
A total 360 tonnes of stainless steel has been used in the armature structure of the statue. The developers have used 114 tonnes of bronze in casting of the statue.
The statue has been sculpted by 98-years-old Ram Vanji Sutar from MaharashtraAwho is a Padma Bhushan awardee.
The statue has been built on a 50-feet high pedestal with a ground floor measuring 172 feet and terrace of 74 feet.
It was on the 125th birth Anniversary of Ambedkar in 2016 that Chief Minister KCR had announced that the state government will install a 125-feet tall statue.
The government constituted a committee under the chairmanship of Kadiyam Srihari, then Deputy Chief Minister. A technical committee was constituted for collecting relevant information from various organizations for installing the statue.
In 2018, the government appointed Design Associates as consultants for preparation of Detailed Project Report and Project Management Consultancy Services. The consultants prepared two alternatives (Circular and Square pedestal) for approval.
The chief minister approved the circular based option similar to Indian Parliament.
In 2020, the government sanctioned Rs 146.50 crore for the project and the work was entrusted to KPC Projects Limited, Hyderabad. An agreement was signed June 3, 2021 with a stipulated period of 12 months.
The project has come up on 11.7 acre area. The monument building comprises a museum and gallery exhibiting important life events of Dr Ambedkar. It has landscape and greenery on 2.93 acres with provision for parking for about 450 cars. The main building and ancillary blocks have come up on 1.35 acre.
The monument building has a total built up area of 26,258 square feet. The built up area of the lower ground floor in the pedestal structure is 2,066 Sft while it is 15,200 on ground floor and 2,200 Sft on terrace floor. The built up area in Ancillary building Ais 6,792 Sft.