Telangana
Birthday wishes pour in from across political spectrum as KCR turns 69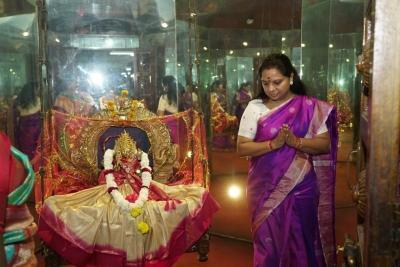 As Telangana Chief Minister K Chandrasekhar Rao (KCR) turned 69 on Friday, political leaders and celebrities across the country greeted him with birthday wishes.
Among the first to extend birthday greetings to KCR was Prime Minister Narendra Modi who tweeted, "Birthday greetings to Telangana Chief Minister Shri K Chandrashekhar Rao garu. I pray for his long life and good health."
Amid the current face-off on several issues with the state government headed by KCR, Telangana governor Tamilisai Sounderajan tweeted on Friday, "Birthday Wishes to honb @TelanganaCMO Shri K Chandrasekar Rao garu."
Other BJP leaders who greeted KCR include Union ministers Nitin Gadkari, Shripad Y. Naik and Raosaheb Patil Danve, and Assam Chief Minister Himanta Biswa Sarma who tweeted: "Warm birthday wishes to Chief Minister of Telangana Shri K Chandrashekhar Rao ji. May maa Kamakhya and Mahapurush Srimanta Sankardev bless him with good health and a long life."
Irrespective of political affiliation, birthday wishes poured in from political leaders of other parties too from other parts of the country.
Prominent among those included DMK supremo and Tamil Nadu Chief Minister MK Stalin who tweeted: "Heartiest birthday greetings to Telangana Chief Minister thiru K Chandrashekhar Rao. Wishing you a long and healthy life in service of the people of Telangana and in fighting divisive politics."
Aam Aadmi Party founder and Delhi Chief Minister Arvind Kejriwal also extended his wishes with a twist as he tweeted his birthday wishes to KCR in Telugu. Kejriwal prayed for the long and healthy life of the Telangana chief minister.
Tollywood megastar and former Union minister in the UPA government, Chiranjeevi also extended his birthday wishes to KCR on Friday.
KCR, who spearheaded the agitation for a separate Telangana state to be carved out of Andhra Pradesh, achieved his goal and went on to become the first chief minister of Telangana in 2014.
He led the TRS party to its second consecutive victory in 2018 assembly polls. In 2022, he converted the TRS into the BRS as a potential national alternative to the BJP and Congress.
Birthday celebrations for KCR were kickstarted in various parts of Telangana from Thursday onwards. His daughter and BRS MLC K Kavitha participated in the midnight birthday celebrations organised at LB Stadium on Thursday. Later on Friday morning, she performed special pujas at the Balkampet temple.