Telangana
Flipkart expands Footprint in Telangana with new fulfillment centre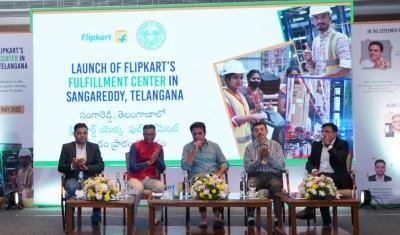 Flipkart expands Footprint, India's leading e-commerce player Flipkart has expanded its footprint in Telangana and strengthened its supply chain infrastructure with the launch of a new fulfillment center in Sangareddy.
The facility will support the delivery and logistics of a wide range of product categories, including furniture and large appliances, offered by thousands of local sellers and MSMEs in Telangana, providing them access to a national market.
Flipkart expands Footprint, Spread over 4 lakh square feet, the fulfillment centre will further Flipkart's commitment to India's digital commerce evolution by empowering local sellers, employable youth, and customers while making e-commerce more inclusive and accessible.
Flipkart said its supply chain operations have contributed to the growth of Telangana's economy by creating over 40,000 direct and indirect jobs.
The company's e-commerce platform has so far empowered more than 14,000 sellers in the state to join the mainstream economy and cater to the rising consumer demand in the country.
Telangana's minister for industry K. T. Rama Rao virtually inaugurated the fulfillment centre virtually from Hyderabad. Government of Telangana Secretary for industry and commerce Jayesh Ranjan, Flipkart Group CEO Kalyan Krishnamurthy were also present.
Some of Flipkart's key investments in Telangana include the establishment of six fulfillment centers for making millions of products, including home appliances, furniture, large appliances, and grocery available. With close to 100 distribution hubs in the state, it collectively generates over 40,000 job opportunities.
Flipkart expansion
About 5,000 kiranas in Telangana, are also associated with Flipkart's Kirana Delivery program. Making lakhs of deliveries that augment their income. Last year, Flipkart signed an MoU with the Society for the Elimination of Rural Poverty to promote market access. And growth for Farmer Producer Organizations and Self-Help Groups in Telangana. To enable access for them to Flipkart's pan-India customer base.
Flipkart has a green data center located in the state, powered by renewable energy, that strengthens the technology infrastructure. And underlines the company's efforts towards building a sustainable value chain.
Speaking on the occasion, minister KTR suggested to Flipkart to create a model for the rest of the country by taking good care of gig workers.
"As we go along the journey in e-commerce business, we must take care of the gig workers. We should ensure that they feel secure, and their livelihoods, families are protected. It's our duty to see to it that they are not affected by factors extraneous and beyond their control. We should build credibility, and aspiration among youngsters to work in the e-commerce sector. Let's create a unique model that will serve as a statement from Telangana," he said.
He suggested a model that includes a tripartite arrangement among government, e-commerce companies. And marketing vendors and partners to safeguard the livelihoods of the gig workers.
The minister also suggested that the e-commerce companies join hands with Telangana Academy of Skills. And Knowledge (TASK) to create a readily employable workforce with required skills.
KTR also suggested that the company use the services of women self-help groups to employ more women. And provide better livelihood opportunities in rural areas.