Telangana
Hyderabad is a no-nonsense city: KTR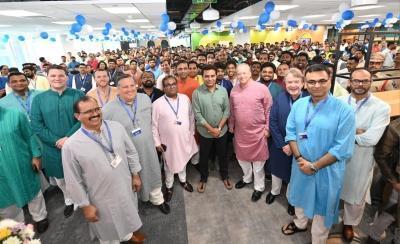 Telangana's minister for information technology and industry K.T. Rama Rao said on Tuesday that Hyderabad is a no-nonsense city with zero tolerance for hatred and violence.
The minister described Hyderabad as a melting pot which invites, assimilates and welcomes anybody from any part of India. He also took a dig at Uttar Pradesh over the law and order situation in that state.
KTR, as the minister is popularly known, was speaking at the inauguration of Cisco's permanent office for the Centre of Excellence team in Hyderabad.
The minister also asked Citco employees about the Indian states they come from. When he found only employees from Uttar Pradesh, he asked how Yogi let him go. "Tell Yogi we are taking very good care of you," KTR remarked.
The minister was impressed with the Citco leadership team wearing traditional Kurta pyjamas. "Have you enjoyed Haleem and Biryani here? This is the Ramzan season. You should experience all this," he said.
"Anybody who comes to the city in a matter of no time starts feeling at home. This is a beautiful city which welcomes all cultures. It's a no-nonsense city . We don't tolerate any kind of hatred, violence, any kind of nonsense with respect to law and order. Very very tough in its turn in dealing with such issues," KTR said.
KTR said that Telangana had an explosive growth in the technology sector in the last nine years. He said the number of employees in the technology space was 3,23,000 in 2014 and as of June last year, it rose to almost a million.
The minister said Hyderabad has a beautiful ecosystem both on academic side and also in innovation space. He told the Citco team that next to their office is the largest innovation campus comprising T-Hub, T-Works and the upcoming Innovation Centre for Animation, Gaming, Multimedia and Entertainment.
He said for those interested in pursuing career pursuing opportunities, the city has skilling institutions, business schools and academic institutions.
Pointing out that Amazon has its largest campus in Hyderabad and the second largest campuses of giants like Microsoft, Meta, Google, Apple, Uber and Micron are located in the city, he asked Citco to set up the second largest headquarters in the world in Hyderabad.
Citco, the global alternative investment asset servicer with over $1.8 trillion in assets under administration, had launched its Center of Excellence (CoE) in Hyderabad in September 202. It has now moved to a new permanent facility.
The CoE provides a range of support in relation to fund and banking services for Citco and its international client base, helping both to operate more efficiently and effectively via Citco's portfolio of award-winning proprietary technologies.
"The state of the art office will ensure we are well-positioned to support the growth of Citco not simply in the region, but also globally. We have seen significant worldwide demand for our fully-integrated ecosystem of bespoke technologies and white-glove, specialist asset services, so now that our new regional base is ready, we look forward to significantly and sustainably growing our team in India," said Jay Peller, Head of Fund Services, Citco Fund Services (USA) Inc.
Amit Verma, General Manager, Citco Group Services (India) LLP Hyderabad Branch, also spoke.