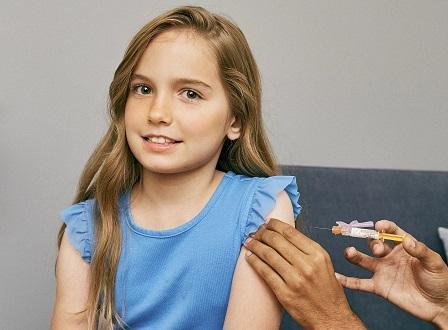 With the Covid-19 graph indicating a downward trend, several Indian state governments are already thinking of re-opening schools. While doctors and researchers predicted the third wave of Coronavirus disease to affect children below 18, parents are concerned about their wards' health and worried about sending them to schools.
Meanwhile, All India Institute of Medical Sciences (AIIMS) director Dr Randeep Guleria has recently said that getting the vaccines available for children would be a "milestone achievement". If Zydus' Cadila vaccine gets approval, it would be an option," Dr Guleria said.
He had previously also said that data from phase 2 and 3 trials of Bharat Biotech's Covaxin on the 2-18 age group is likely to be available by September following which the vaccine might receive approval from the Drugs Controller General of India (DCGI).
If the Pfizer vaccine is approved before that, it could also be an option, Dr Guleria further reiterated. "Availability of Covid-19 vaccine for children would pave the way for the reopening of schools and outdoor activities. Schools have to be reopened as there has been a major loss in studies in the last 18 months due to the pandemic," he stressed.
Dr Guleria also cautioned that though children have mild Covid-19 infections and some are even asymptomatic, they can be carriers of the viral disease.
Let us look at the countries that have already vaccinated children below 18 years of age or are considering doing so. As far as the European Commission is considered, they have authorized Pfizer and BioNTech's Covid-19 vaccines to be used in children as young as 12 but left decisions on when to roll out the shots up to member states.
NORTH & SOUTH AMERICA
Brazil: Approved use of Pfizer's vaccine for children over 12 on June 11.
Chile: The country approved use of Pfizer's vaccine for 12 to 16-year-olds.
USA: Began inoculating young adolescents in mid-May.
Canada: Approved use of Pfizer's vaccine for use in children aged 12-15 in early May
EUROPE (EU COUNTRIES)
France: Vaccination for children has already started with parental consent.
Germany: The vaccine advisory committee of the country, known as STIKO, recommended children and adolescents with pre-existing conditions should be given vaccines produced by Pfizer and partner BioNTech.
Austria: The country aims to have over 340,000 children aged 12-15 vaccinated by the end of August, according to news site Vindobona.
Estonia: To start vaccinating teenagers by the autumn, public broadcaster ERR reported, citing the head of the government's COVID-19 council.
Hungary: Have already started vaccinating 16 to 18-year-olds from mid-May, according to Xinhua news agency.
Italy: Approved extending the use of Pfizer's vaccine to 12-15 year olds from May 31.
Lithuania: The Prime Minister said the country could start vaccinating children from age 12 in June, news site Delfi reported.
Spain: The country plans to start vaccinating children between 12 and 17 years old around two weeks before the academic year starts in September, the health minister said.
EUROPE (NON-EU COUNTRIES)
Britain: Although the country has approved Pfizer's shot for 12- to 15-year olds, UK ministers will be advised against mass vaccinations of children below 18 until scientists obtain more data on the risks, The Telegraph reported.
Switzerland: Approved vaccinations for 12 to 15-year-olds with Pfizer's shot, ahead of the country's plan to start inoculating younger people starting as early as July.
Norway: The country may consider the Pfizer vaccine for children who have a high risk of becoming seriously ill with COVID-19, VG newspaper reported.
San Marino: They have begun vaccinations for children aged 12-15, reported San Marino RTV.
MIDDLE EAST
Israel: The country began its innoculation campaign for children aged 12-15 on June 6, The Times of Israel reported.
Dubai: has started offering the Pfizer-BioNTech vaccine to 12 to 15-year-olds, after the United Arab Emirates approved the shot for emergency use for the same age group in mid-May.
ASIA-PACIFIC
China: The country approved emergency use of Sinovac's vaccine for those between three and 17.
Singapore: Opened up its vaccination programme to adolescents aged 12-18 from June 1.
Japan: Approved the use of Pfizer's vaccine for those aged 12 and above from May 28.
The Philippines: The country decided to allow the Pfizer-BioNTech's vaccine for emergency use in children aged 12-15 from May 26.
Hong Kong: Will open its Covid-19 vaccine scheme to children over the age of 12, the government said.