Featured News
In last Budget before LS polls, govt unveils tax relief, rolls out funds for defence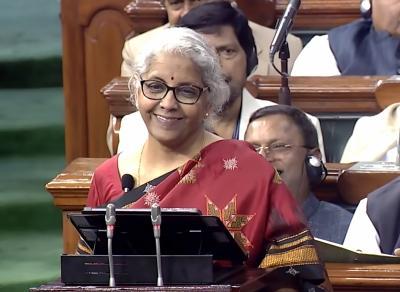 With Lok Sabha polls just a year away, the Narendra Modi-led government on Wednesday unveiled its last full union budget for 2023-24, which came loaded with tax relief for taxpayers, significant push towards capital spending and infrastructure as well as agriculture and defence.
The government has also outlined seven priority areas in the budget, namely development, last mile connectivity, infrastructure and investment, unleashing the potential, green growth, youth power and financial sector.
Presenting the Union Budget for 2023-24 in Parliament, Finance Minister Nirmala Sitharaman on Wednesday announced simplification of slabs in the new tax regime, where no tax will be levied on income up to Rs 7 lakh per annum. The earlier slab was Rs 5 lakh per annum.
Sitharaman said that the new tax regime is attractive and offers greater rebate, while providing for simplified and smaller slabs.
In addition to this, the government will also spend a record Rs 10 lakh crore on longer term capital expenditure, a hike of 33 per cent, thus extending its strategy to revive post-Coronavirus growth.
This will be 3.3 per cent of the GDP in 2023-2024.
The fiscal deficit target of 5.9 per cent of GDP has been kept for 2023-24, though the finance minister said that the government is committed towards bringing it below the 5 per cent mark by 2025-26.
In a surprising move, however, the government has slashed the budgetary allocation for Mahatma Gandhi National Rural Employment Guarantee Scheme (MGNREGA) by 30 per cent to Rs 61,032.65 crore for 2023-24.
This is 30 per cent less than the revised estimate of Rs 89,154.65 crore for 2022-23.
The decision seemed all the more intriguing as it was this rural job guarantee scheme, which had proven to be a lifeline for migrant workers, when they were forced to return to their native places after the Coronavirus-induced nation-wide lockdown was imposed by the government in March 2020.
In addition to this, the budgetary allocation for food and public distribution too been slashed by 30 per cent by the government to Rs 2,05,513 crore for 2023-24.
The revised estimate for 2022-23 was Rs 2,96,303 crore for 2022-23.
At the same time though, the government hiked the agricultural credit target to Rs 20 lakh crore, a move clearly aimed at placating the farmers, especially after more than a year-long agitation launched by them against the three controversial farm laws.
An agriculture accelerator fund too has been announced in the union budget, to encourage agri startups by young entrepreneurs in rural areas.
The fund will aim at bringing innovative and affordable solutions for challenges faced by farmers. It will also bring in modern technologies to transform agricultural practices, increase productivity and profitability.
The allocation for Pradhan Mantri Aawas Yojana (PMAY), a scheme aimed at providing housing for rural and urban poor, also went up by 66 per cent to Rs 79,000 crore.
In addition to this, 50 new airports and helipads have also been promised.
A major push though has been kept for railways, as the budget announced an outlay of Rs 2.4 lakh crore — the highest in almost a decade and four times than the last year's budget.
"This is about nine times the outlay made in 2013-14," Sitharaman said, comparing it with the last year of the Congress-led UPA regime.
A massive hike of 12.9 per cent in budgetary allocation for the defence sector was effected in the budget, which went up to Rs 5.93 lakh crore.
While the modernisation funds saw a meagre hike of 6.57 per cent at Rs 1.62 lakh crore, the revenue budget — including the pay and allowances of defence personnel — saw an increase of around 17.39 per cent.
This also includes allocations worth Rs 4,266 crore towards the Agnipath scheme for the first time. The scheme was announced last year and the first batch of Agniveers across the three services are undergoing training at present.
In a step towards easing access for digital infrastructure, the Permanent Account Number (PAN) will be used as a common identifier for all digital systems of specified government agencies.
The KYC process will be simplified and a one-stop update of identity will be established through Digilocker service and Aadhaar.
A system of 'Unified Filing Process' will be set-up to streamline the current process of duplication for multiple departments for ease of business.
To settle commercial disputes, the government will bring another dispute resolution scheme. There will be a one-stop solution for reconciliation of IDs maintained by various government agencies, the minister said.
Furthermore, in line towards meeting its zero carbon commitment by switching to green fuel, the government is targeting 5 MMT of green hydrogen production by 2030, Sitharaman said.
Announcing that women empowerment is one of the key focus areas of the union budget, a one-time new small savings scheme — Mahila Samman Savings Certificate — will be made available for a two-year period up to March 2025, the finance minister said.
"This will offer deposit facility up to Rs 2 lakh in the name of women or girls for a tenure of two years at fixed interest rate of 7.5 per cent with partial withdrawal option," she said.
The maximum deposit limit for senior citizen savings scheme will also be enhanced from Rs 15 lakh to Rs 30 lakh, Sitharaman said, adding that the maximum deposit limit for monthly income account scheme will be enhanced from Rs 4.5 lakh to Rs 9 lakh for single account and from Rs 9 lakh to Rs 15 lakh for a joint account.