Featured News
TDP leader Nara Lokesh promises to bring down fuel prices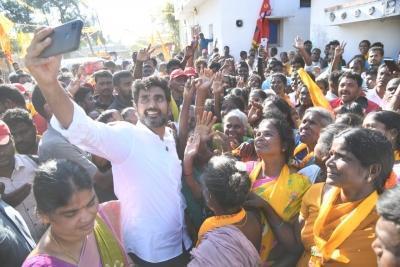 Exuding confidence that Telugu Desam Party (TDP) will form the government again in Andhra Pradesh, party's national General Secretary, Nara Lokesh, on Sunday promised that it will bring down the prices of diesel and petrol.
Lokesh, who was on his padayatra 'Yuva Galam', interacted with an autorickshaw driver in Gangadhara Nellore Assembly segment. When the TDP leader enquired about the diesel price, the auto driver replied that it is Rs 95.39 per litre. "How come you are getting it for a lesser price," Lokesh asked and the driver informed him that he fills the fuel in Tamil Nadu as he lives in the border area.
"It is certain that the TDP is going to come to power again and the taxes on fuel will be reduced to control the prices and there will be no need for you to cross the state border to fill uel to your vehicle," Lokesh told him.
Later, at Eedigapalle, the Gouda community representatives met Lokesh and submitted a memorandum to him explaining the problems they were facing. Responding to them, Lokesh promised all the steps to resolve their issues once the TDP is back in power and his party is committed to the welfare of the toddy-tapper community.
He also promised to take measures for construction of roads and also extend financial assistance and subsidies to them through the BC Welfare Corporation. "Our sole aim is this psycho should go and cycle should come back," Lokesh said.
"My mike may be grabbed from me but my voice can not be choked. The people are my strength. I always raise my voice against this atrocious rule," he said while addressing people at KM Puram of Karvetinagaram.
Pointing out that several leaders undertook padyatras earlier in the State, Lokesh asked why problems were being created only for him when he began his venture. "My campaign vehicle and sound system have been seized while my mike was grabbed from me by the police. But the police can not choke my voice and I will raise my tone even if there is no mike," he said.