Business
AP woos TN investors with natural and infra advantage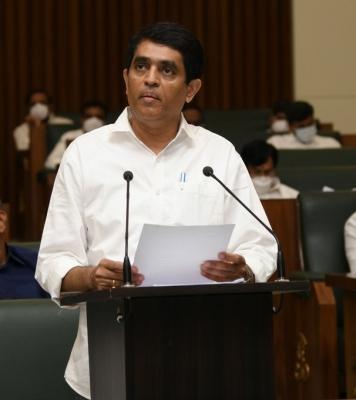 Citing common culture, similar geography, top rank in the ease of doing business, land bank of over 48,000 acres, 70 per cent population in working age, Andhra Pradesh Minister for Finance, Buggana Rajendranath wooed industrialists here to invest in his state.
Rajendranath also said he, his parents and grandfather had studied in Chennai.
He also pointed out that there are various sectors where both the states can work hand-in-hand like agriculture, maritime, infrastructure, green energy, logistics, tourism and others.
Speaking at the road show and investors meet ahead of the state's Global Investors Summit 2023 to be held in March 2-4 at Visakhapatnam Rajendranath said: "Geography and the culture are the same between Tamil Nadu and Andhra Pradesh other than the border."
Rajendranath said after the introduction of Goods and Services Tax (GST) nothing much can be done with taxation matters to attract investments.
The natural advantage that a state offers to an investor will be the deciding factor for investment commitments.
According to him, Andhra Pradesh offers growth opportunities for investors unlike some states where the opportunities have reached a plateau after reaching the saturation levels.
He also added that in the last 3.5 years, the state has approved investments to the tune of Rs 1.9 lakh crore.
"That would go on to create employment for around 90,000 people in the state in the future," he said.
The state is also spending a significant amount of its budget on developing air connectivity in the state, with a Greenfield international airport coming up at Bhogapuram near Visakhapatnam at a cost of Rs 2,500 crore.
The four new ports at Ramayapatnam, Machilipatnam, Bhavanapadu and Kakinada are being built. The state also intends to develop Inland Waterways, which will reduce cost of logistics for moving cargo within and outside the state. Twenty-seven locations have been identified as prioritized terminals.
The waterways will have potential to handle 10 MT by 2029.
Andhra Pradesh is in the process of developing three national industrial corridors in the state, the only state to do so in the country.
It is been sanctioned to build a bulk drug park, the only state in South India, with the financial assistance of Rs 1,000 crore.
Andhra Pradesh has listed 13 sectors – agriculture and food processing, aerospace and defence, automobiles/electric vehicles, textiles/apparels, industrial logistics, petroleum/petrochemicals, tourism/hospitality, IT/electronics, pharma, healthcare/medical equipment, renewable energy, MSME/Start-Ups and skill development – as the focus industries.