Business
BMS facility to strengthen Hyderabad's position as life sciences hub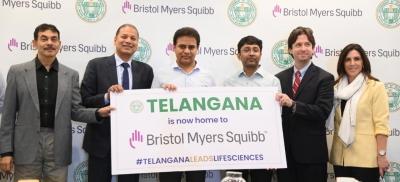 The announcement of Bristol Myers Squibb (BMS), one of the world's leading biopharmaceutical companies to set up a facility in Hyderabad will further strengthen the city's position as life sciences hub, state Industries and Commerce Minister K. T. Rama Rao said on Thursday.
BMS, one top 10 pharma company headquartered in New York, announced that it will set up a state-of-the-art facility in Hyderabad with an investment of $100 million.
The facility will expand the company's global drug development and IT and digital innovation capabilities.
Rama Rao said that Telangana has emerged as the hub of life sciences in Asia and with BMS's addition to long list of global giants will further strengthen the state's position.
The company plans to begin operations in Hyderabad later in 2023, with the potential over the next few years to employ approximately 1,500 people in Hyderabad who will be engaged in cutting-edge R&D and digital activities.
The announcement was made after Rama Rao's meeting with Dr. Samit Hirawat MD, Executive Vice President, Chief Medical Officer, Global Drug Development at BMS, who is in Hyderabad to participate in the 20th edition of the annual international convention BioAsia 2023.
Senior Government officials Jayesh Ranjan IAS, Principal Secretary and Shakthi M. Nagappan, CEO, Telangana Life Sciences were also present during the meeting.
KTR, as the minister is popularly known, said that he was delighted to welcome BMS to the vibrant ecosystem of Hyderabad.
"It is indeed a matter of pride that BMS, which is one of the most innovative and world's leading biopharmaceutical companies, has chosen Hyderabad and I strongly believe this partnership with BMS is a strategic one," he said.
Samit Hirawat, Chief Medical Officer, Global Drug Development, Bristol Myers Squibb, stated that the Hyderabad site is a long-term strategic investment for BMS and that they look forward to commencing operations later this year.
"We are excited about the opportunity to diversify our company globally, which will position us to further accelerate our drug development, bolster our digital innovation capabilities, and advance BMS's mission to discover, develop and deliver innovative medicines that help patients prevail over serious diseases," he said.