News
K'taka Civil servants' spat: IAS Rohini serves legal notice to IPS Roopa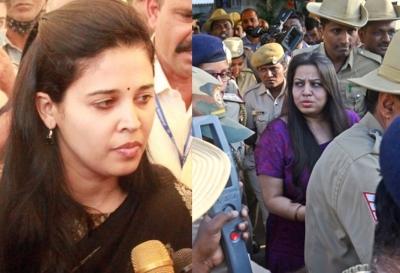 IAS officer Rohini Sindhuri has served a legal notice to IPS officer D. Roopa Moudgil for defaming her and sought Rs one crore as damages along with an unconditional apology.
Senior bureaucrats Rohini Sindhuri and Roopa were indulged in public tussle over corruption and conduct issues. The ruling BJP government was severely embarrassed with the release of private pictures and statements of both officers to the media and social media posts.
Both officers have been transferred from their present positions without showing postings. Indirect war between the two continued with the release of an audio clip on Wednesday.
Meanwhile, Rohini Sindhuri has issued a legal notice to Roopa warning her that if she is not fulfilling the demands, legal action would be initiated against her.
The notice said, "The comments/statements/allegations made by you have put our client and her family members to untold mental agony. It has ruined her image in professional, personal and social life. She is spending sleepless nights as her moral uprightness, character and conduct have become the topic of discussion amongst one and all known to her and in the administrative /bureaucratic circle in particular."
"Though the damage caused to the image and reputation of our client cannot be measured and compensated in terms of currency, our client, however, restricts the same to a notional figure of Rs 1 crore.
"You have made yourself liable to pay our client the sum of Rs 1 crore as damages." The notice also demanded Roopa to apologise for making defamatory statements against her. She has also been asked to delete all social media posts regarding Rohini Sindhuri.