Business
Paytm Payments Bank goes live with UPI LITE to boost small-value UPI transactions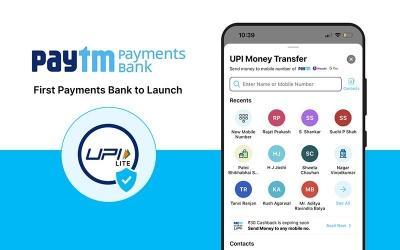 Homegrown Paytm Payments Bank Limited (PPBL) on Wednesday said it has gone live with UPI LITE, a feature enabled by the National Payments Corporation of India (NPCI) for multiple small-value UPI transactions.
It will enable faster real-time transactions with a single click through Paytm. With UPI LITE, the Bank aims to drive the adoption of digital payments across the country.
Once loaded, a UPI LITE wallet allows a user to do instant transactions of up to Rs 200 in a seamless way.
A maximum of Rs 2,000 can be added twice in a day to UPI LITE, making the cumulative daily usage up to Rs 4,000.
Additionally, with UPI LITE, users can carry out a large number of small value UPI payments without worrying about a cap on the number of bank transactions, said the company.
"As per official data from NPCI, half of the everyday UPI transactions in the country are less than Rs 200 and with UPI LITE, users get superior experience with faster and safer real-time small value payments. We are focussed on driving digital inclusion and the launch of UPI LITE is a big step ahead in that direction," said Surinder Chawla, MD and CEO, Paytm Payments Bank.
UPI LITE was launched by the Reserve Bank of India in September 2022. It also de-clutters the bank passbook of small value transactions, as these payments would now only show in the Paytm balance and history section, and not in the bank passbook.
"This will further improve the success rate of transactions, enhancing the user experience, and taking us one more step closer to processing a billion transactions a day on the UPI platform," said Praveena Rai, COO, NPCI.
Paytm Payments Bank recently announced that users can receive and send money instantly to any mobile number with a registered UPI ID across platforms using the Paytm app.
PPBL remained the largest UPI beneficiary bank for 19 months in a row with over 1,726.94 million transactions in December 2022, ahead of all major banks in the country.
With 386.5 million registered transactions, the Bank is one of the top 10 remitter banks for UPI transactions, according to NPCI's latest report.