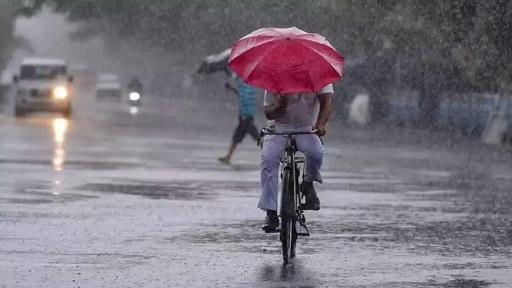 Under the influence of a low pressure area formed in the Bay of Bengal, heavy rains lashed Krishna, West Godavari, East Godavari, Guntur, Kurnool, Chittoor, Prakasam and Nellore districts. Light to moderate rains occurred in other parts of the State. Heavy rains are likely to continue in some parts of coastal districts and incessant drizzle in Rayalaseema.
Fishermen have been advised not to venture into the sea till Saturday as surface winds with a velocity of 50-60 kmph are likely to hit the coast. People of low-lying areas across the State have been alerted. Taking stock of the rain situation in the State and forecast of heavy rains in the next two days, the state government has directed District Collectors to ensure that people are not subjected to any inconvenience.
They have been directed to take up proper sanitation measures and ensure that there is no scope for outbreak of water-borne seasonal diseases. Meanwhile, the minister directed district officials to set up relief camps and shift the people from low-lying areas if needed.
Additionally, civic chiefs have been asked to submit the plan of action in the wake of rains by Friday, identify vulnerable areas, where old and dilapidated buildings are located, and evacuate people from the places.
Further, chlorination of all drinking water sources has been instructed. In Kurnool, officials have been directed to set up relief camps and if needed shift the people from low-lying areas. Police have been asked to ensure that people do not cross the bridges where rivers and streams are overflowing.
The State has received surplus rainfall during the current monsoon and Rayalaseema districts have recorded excess rainfall. Agricultural crops in 55 mandals of the State were submerged due to incessant rains. Officials will enumerate the crop loss once the rains subside, he said, and assured that the government will respond immediately in case of any loss to farmers.
Rajamahendravaram, Tirupati and other places in the State, main thoroughfares resembled streams. With umbrellas out, streets wore a colourful look. In low-lying areas, people are facing severe hardship due to inundation. Allagadda in Kurnool district received heavy rains on Wednesday and scattered rainfall on Thursday.
Several water bodies in the district are now brimming with water. In view of increasing inflows from upstream following heavy rains, the water resources department is on high alert and closely monitoring the flood situation.
In the 24 hours ending 8:30 am Thursday, Amalapuram in East Godavari received the highest rainfall of 11 cm, followed by Palakoderu, Tadepalligudem and Bhimavaram in West Godavari with 9 cm. Vijayawada, Nuzvid, Paleru, Kaikaluru, Nandigama, Koida and Allagadda recorded 8 cm rain. Several other places got rainfall ranging from 1 to 7 cm.