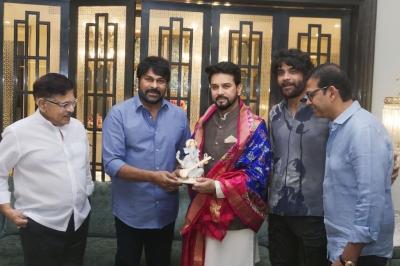 Union Minister of Information and Broadcasting Anurag Thakur met top Tollywood actors K. Chiranjeevi and Akkineni Nagarjuna.
Chiranjeevi revealed on Monday that the Union Minister visited his residence in Hyderabad on Sunday.
The megastar took to Twitter to thank Thakur for taking time to drop by his place during his visit to Hyderabad on Sunday.
"Loved the delightful discussion we had along with my brother Nagarjuna about the Indian film industry and the rapid strides it is making," wrote Chiranjeevi.
Well-known producer and Chiranjeevi's brother-in-law Allu Aravind was also present during the meeting.
Anurag Thakur is said to be in regular touch with Chiranjeevi ever since he presented the actor 'Film personality of the year' award at the International Film Festival of India (IFFI) at Goa in November last year.
The Minister had congratulated Chiranjeevi saying that he has had an illustrious career spanning almost four decades with over 150 films as an actor, dancer and producer.
Thakur noted that Chiranjeevi is immensely popular in Telugu Cinema and has given incredible touching-hearts performances.