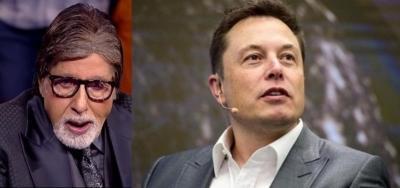 Amitabh Bachchan born as Amitabh Shrivastav ( 11 October 1942 ) is an Indian actor, film producer, television host, occasional playback singer and former politician known for his works in Hindi cinema. Above all Bachchan is regarded as one of the most successful and influential actors in the history of Indian cinema. Referred to as the Shahenshah of Bollywood, Sadi Ke Mahanayak (Hindi for, "Greatest actor of the century"), Star of the Millennium, or Big B. His dominance in the Indian movie scene during the 1970s–1980s made the French director François Truffaut call it a "one-man industry".
Big B says, Megastar Amitabh Bachchan thanked Twitter CEO Elon Musk in his own unique way after his blue tick on the micro-blogging website was restored.
After that taking to Twitter, Amitabh wrote: "T 4624 – ae Musk bhaiyya! Bahut bahut dhanyavaad det hain ham aapaka! Uu, neel kamal lag gava hamaar naam ke aage."
He then gave a hilarious spin to the song 'Tu Cheez Badi Hai Mast Mast' from the 1994 film 'Mohra'. The song is originally picturised on Akshay Kumar and Raveena Tandon.
Big B says: "Ab ka batayi bhaiyya! (gaana gaye ka mann karat hai hamaar! Sanbo ka? Ee leo suna: "Tu cheez badee hai musk musk … too cheez badee hai, musk."
On the work front, Amitabh will be seen in 'Project K'. Directed by Nag Ashwin, the film also stars Prabhas and Deepika Padukone. It will hit the screens on January 12, 2024.
In short Amitabh will be seen in the upcoming movie 'Section 84'. A courtroom drama thriller written and directed by Ribhu Dasgupta.