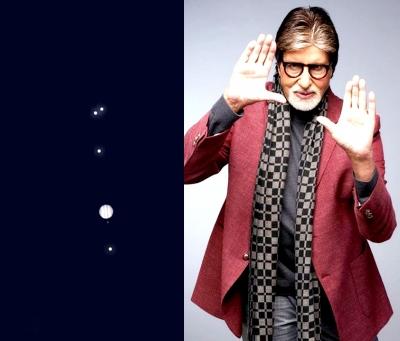 Veteran Bollywood superstar Amitabh Bachchan, who is known for his engaging social media posts, recently shared a video of five planets aligned in a straight line. Taking to his Instagram, the 'Don' star shared the video which shows Mercury, Venus, Mars, Jupiter, and Uranus making a trail.
He wrote in the caption, "What A Beautiful Sight…! 5 Planets Aligned Together Today… Beautiful And Rare… Hope You Witnessed It too".
Bollywood actress Shilpa Shetty commented, "Wow".
"Amazing this was so so beautiful , captured this by Stellarium this amazing App. I posted this too sometime back (sic)," wrote 'Haseena Parkar' actor Siddhanth Kapoor.
Since being posted, the Instagram video accumulated more than 2.2 million views, one lakh likes, and numerous reactions in the comment section.
Earlier in March, Big B suffered an injury during the shoot of 'Project K', in Hyderabad. The 80-year-old suffered a muscle tear in his right rib cage during an action sequence of the film. He wrote that after the incident the film shoot was postponed.
'Project K' is a science fiction film written and directed by Aswhini Dutt. Being shot simultaneously in Telugu and Hindi, it features Amitabh, Prabhas, Deepika Padukone and Disha Patani.