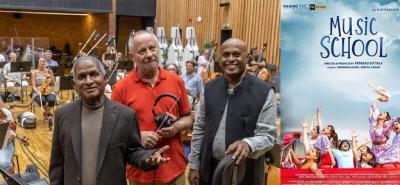 Released in 1965, 'The Sound of Music' remains one of the most loved movies of all time. To this day, songs from the movie continue to captivate generations across the globe. Now, for the first time ever in Indian cinema history, three songs from 'The Sound of Music' will figure in the soon to be released Telugu-Hindi movie, 'Music School'. Music Maestro Ilaiyaraaja has wielded the baton for the movie, which features 11 songs in all. Of these, 'Do-Re-Mi', 'So Long Farewell' and 'Sixteen Going on Seventeen', are the three songs from the Hollywood musical drama, starring Julie Andrews and Christopher Plummer, based on the true story of the von Trapp family.
The man behind achieving this seemingly impossible feat is Papa Rao Biyyala, who has produced and directed 'Music School'.
The former IAS officer, UN official based in Kosovo and the brain behind the Clean Sports India movement is making his directorial debut in feature films with his story that deals with the pressure on children to conform to the academic expectations of parents and society.
When Papa Rao Biyyala chose the musical route to craft his movie, he was clear that songs from 'The Sound of Music' would fit right into his movie.
Ilaiyaraaja condition
Speaking to Thebetterandhra.com, Papa Rao said negotiations for the rights stretched over many years before he was able to acquire necessary permissions to use the original English songs in his movie.
Papa Rao recalled: "It was an interesting negotiation. But they were kind enough to give me the rights and I'm very lucky to get them. Nobody has been given permission to use so many songs.
"I first submitted the script. Then they asked me for details like how our lyrics are going to be. So they saw all these and they read the script and then they gave the rights. At that time, I was working with United Nations. So I used to go to New York very often."
Papa Rao has previously won a National Award for his 1998 documentary short film 'Willing to Sacrifice'. He was toying with the idea of 'Music School' for more than a decade before he finally got down to filming it.
After getting the rights for the songs, Papa Rao roped in veteran music director Ilaiyaraaja to compose the music. But while Ilaiyaraaja was more than happy to join the project, he had one condition, Papa Rao explained.
"As soon as he heard that we have the 'Sound of Music' rights, he said let's do it. He has a lot of respect for the authors of the music, Richard Rodgers and Oscar Hammerstein. (Ilaiyaraaja's) only condition was that we would score this music only in London. I said 'yes'. So we scored these three songs with the London Philharmonic Society Orchestra," Papa Rao said.
Thereafter, Ilaiyaraaja also wrote the movie's background score, which was recorded with the Budapest Orchestra.
'Music School' features Shriya Saran, Sharman Joshi, Prakash Rao and Suhasini Mulay in lead roles, apart from the star singer Shaan, Bharatanatyam dancer Leela Samson and Gracy Goswamy, best known for her portrayal of Nandini Shekhar in 'Balika Vadhu' and Amrit Sahani in 'Kyun Utthe Dil Chhod Aaye', in critical roles.
The multilingual movie, shot in Hindi and Telugu, and dubbed in Tamil, is set for theatrical release on May 12.