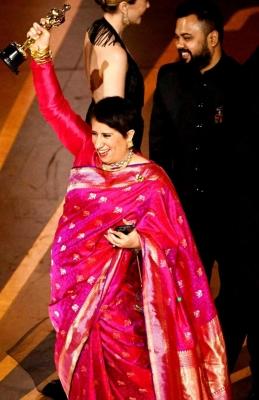 The Oscar for the Best Documentary Short Film generally ends as a blur in the blaze of the bigger names jostling for international attention at any Academy Awards evening. For Guneet Monga, though, it has earned a special place in her heart, for she has come home with it twice.
As executive producer, Monga was the force behind 'The Elephant Whisperers', photographer Kartiki Gonsalves' maiden documentary, lifting the Oscar for Best Documentary Short Film at the 95th Academy Awards. It was her second time.
Monga's first Oscar was for the documentary short film, Iranian American filmmaker Rayka Zehtabch's 'Period: End of Sentence', which follows a group of local women at Kathikera village in Hapur, Uttar Pradesh, as they learn how to operate a machine that makes low-cost, biodegradable sanitary pads, which they sell to other women at affordable prices.
It is not only empowering for the women who produce the sanitary pads, but also helps them, and the women they help, shed taboos regarding menstruation. The short film was inspired by the life of Arunachalam Muruganantham, a social activist from Coimbatore, Tamil Nadu.
Monga, incidentally, has previously worked with Anurag Kashyap on projects such as 'Gangs of Wasseypur – Part 1', 'Gangs of Wasseypur – Part 2', 'Peddlers', 'The Lunchbox', 'Masaan', 'Zubaan' and 'Pagglait'.
'The Elephant Whisperers' landed on Monga's lap when she was contacted by Kartiiki Gonsalves, who had stumbled upon Bomman and his baby elephant Raghu near the Mudumalai National Park while on her way home in Ooty.
The short film documents the tender relationship between Bomman and his helpmate, Ballie, whom he marries subsequently (Monga attended their wedding deep in the forest to get a better sense of the story), and Raghu, who was orphaned and abandoned by the herd after his mother got electrocuted at the national park.
Gonsalves, the daughter of IIT-Mandi founder-director Timothy and US-born historian Priscilla Gonsalves, shot the story of the indigenous couple on her phone, a GoPro, and then a DSLR camera.
Much of the filming was done at the Thepepakadu Elephant Camp, one of the oldest institutions of its kind in the region. Gonsalves had 400 hours of footage, which she finally got down to 40 minutes.
But it all happened after Gonsalves spent a month and half at Monga's home in Mumbai. Monga had invited the newbie director, who was driven entirely by passion, to be her house guest so that they could understand each other.