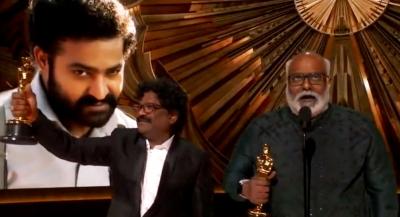 M.M. Keeravani is a man of few words, but he has mastered the art of bringing the house down across his many public appearances in America.
In an unusual acceptance speech that got him several rounds of applause, Keeravani gave his unusual spin to the ageless hit of The Carpenters, 'Top of the World', that many of his age have grown up grooving to.
"I grew up listening to The Carpenters and now here I am with the Oscars," Keeravani began, and then started singing his own version of the '70s pop smash hit: "There was only one wish on my mind. … 'RRR' has to win, pride of every Indian, and must put me on top of the world."
The brothers-and-sister duo, Karen and Richard Carpenter, became hugely popular and sold more than 100 million albums in the 1970s, their joint career coming to an end when Karen succumbed to anorexia nervosa, the eating disorder.
In an interview to 'Variety', Keeravani had said: "The 'Naatu Naatu' song has to make you forget everything — and not just the viewer who is watching the movie, but the characters from the story, too, need to forget every other thing happening around them and pay their full attention towards the song. And the coda, the end part of the song, consists of so much stamina, you cannot call it merely a song — it is an action sequence."
Well, the song did make the star-studded audience at the 95th Academy Awards everything else for a moment, and just surrender to the high-octane energy of the anthem that 'RRR' has gifted to the world.