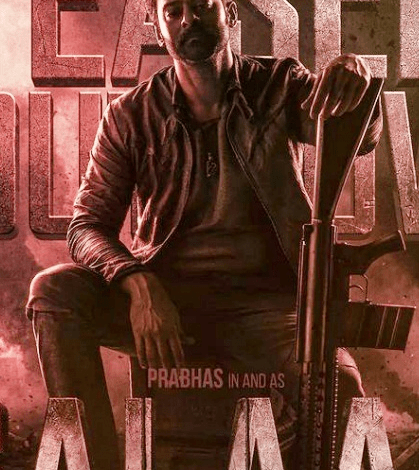 The teaser of the upcoming film 'Salaar', which was unveiled on Thursday, promises another action saga with Prabhas leading the pack.
In a rather unusual move, the makers of the big-budget action film dropped the teaser at 5 a.m.
The teaser, which is under two minutes in length has everything from classic south Indian. Action, to whistle-worthy dialogues, a loud background score all of which point to the look and feel of 'K.G.F.'.
'Salaar' being directed by Prashanth Neel, the 'K.G.F.' helmer, only cements the director's style.
The teaser opens in an underground arena populated with gangsters armed to the teeth with. Guns as Tinnu Anand sitting on the car's bonnet gets up and mouths the lines, "Simple English, no confusion. Tiger, Cheetah, Tiger, Elephant, very dangerous" with a gun pointed at him.
The teaser then plunges into a full-blown action saga with goons flying all over as Prabhas. Makes a stunning entry packing a punch (no, quite literally) with camera shifting the focus from his punch to his face in side profile soft focus.
The colour correction, the background score, the high contrast imagery are reminiscent of Neel's work in the Yash-starrer 'K.G.F.' franchise which catapulted Kannada and cinema and took it to Pan-India level.
At the end of the teaser Prithviraj Sukumaran makes a quite but impactful entry raising the intrigue.